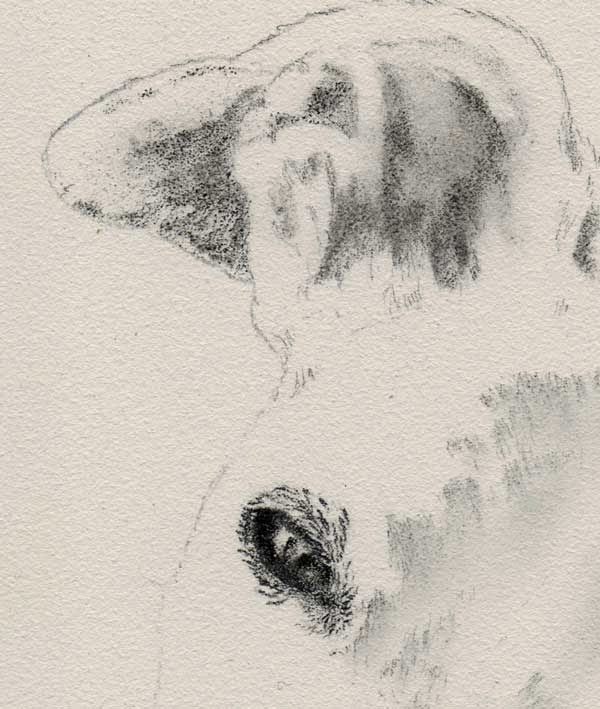 Katie – work in progress, detail
graphite on Aquabord panel
copyright Xan Blackburn 2013
Now, here's a challenge. Katie the greyhound was a lovely girl, much loved by her humans. Okay, that's not unusual for my clients and subjects. Katie was mostly white, which presents the challenges of subtlety in shading, particularly where there is no strong light source to cast deep shadows. Still, okay, not too impossible. Katie's humans are both fine artists in their own right: okay, now it's gotten tricky! The photo references are by Katie's human dad, and they are lovely just the way they are. Katie's human mom is an accomplished artist, using pencils and watercolor. Argh. How to do justice in my own fairly realistic style to a photographic portrait that stands on its own?
I decided to try something a little different, this time. Starting with a graphite drawing as the "under-painting" stage, and layering on glazes of translucent color after. Working on Aquabord, an archival panel with a toothy texture which you can see in the detail above, means that detail will be slightly compromised by the bumpy texture. Not a lot, but enough that it will keep me from getting lost down the rabbit-hole of every-single-hair, and so I can rely on the color glazes to build an atmosphere.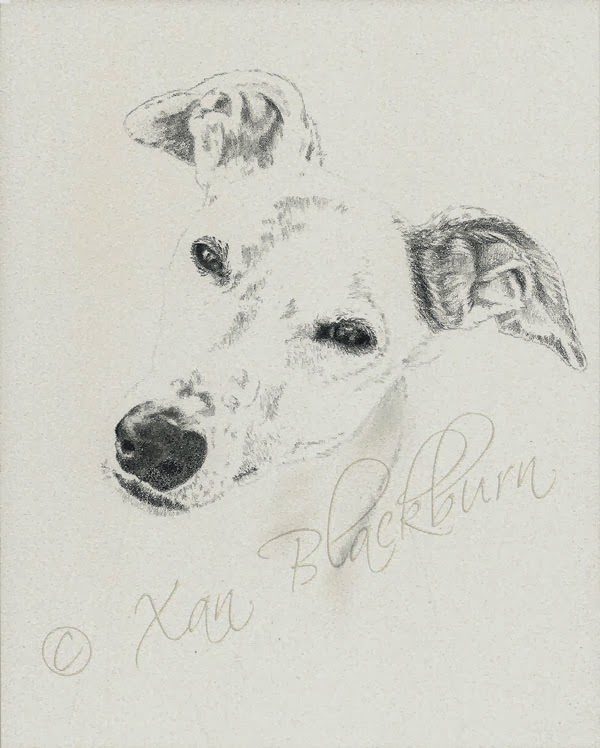 Katie – work in progress, stage 1
drawing well begun
© Xan Blackburn 2013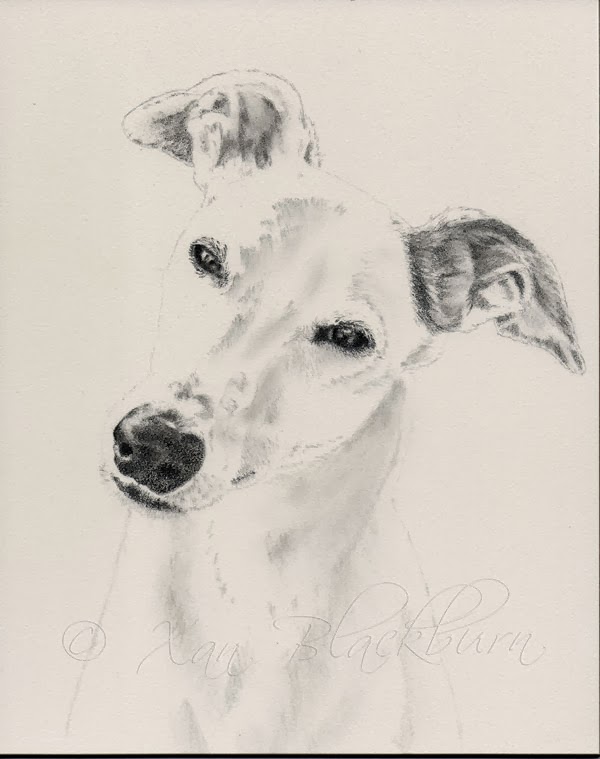 Katie – work in progress, stage 2
drawing done
© Xan Blackburn 2013
Once I had the drawing about where I wanted it, I sprayed it with a workable fixative, so that painting over it wouldn't smear the drawing. I did this with my heart in my throat, since you just never know how that's going to go. Luckily, it worked fine, and I didn't have to start over.
Now to start the glazing! The background in the reference photo is dark, which is exactly right, to make her dazzling whiteness pop out.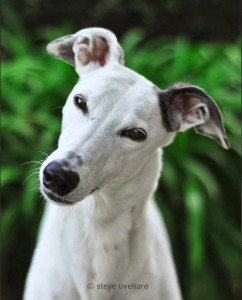 Katie reference photo
© Steve Uyehara
I plan to take a similar approach, keeping it vague, dark, with the lively greens kept to a suggestion of simple leaves, not to compete with Katie, herself. Building up layers means you can achieve luminous, glowing dimensions of color. The first go at the background, I'm laying in a clear yellow, to pull the background together, and begin achieving the final green tones. Katie's shadier side is washed in a warm pinkish tone, to give her the glow of life that shows through her pale fur, and is clearly visible in her ears, and spotting the top of her muzzle.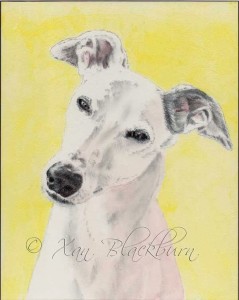 Katie – work in progress, stage 3
first color glazes
That yellow seems really strong right now, but it will become just a glowing member of the color team when all is completed.
That's where we're at today. More as I go along!
Speaking of updates, I've added several projects to my Commercial Art page for your viewing pleasure.
Go take a look!