I'm currently seeking permission to use reference photos from owners of 4 specific breeds, in case you know any! Please get in touch if you have photos of (list changed!):
Dogue de Bordeaux

Mini/Toy Aussie

Xoloitzcuintli

Berger Picard
If I use your photo, you have the option – but not the obligation – to buy the artwork when I'm done with it at a discount (as there may be some wear on the pieces from their travels). I anticipate using them for about a year, which means your dog could travel the US, showing up at NAKC shows representing your breed! 😉
As usual, I'm looking for personality shots, rather than show ring. Clear, high resolution photos can be emailed to me.

______________________________________________________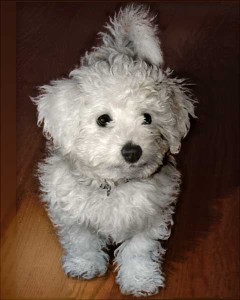 Poor Fluffy!
I started Fluffy's portrait ages ago:


April 12, 2010 –
On the other hand, I have a little fluffy dog portrait to do that reminds me of my dear departed Hobie. Aww! Here's the reference photo (much tweaked from the original). Isn't he too sweet?
On the tables to do now are the portrait of Fluffy (currently mired in the "OMG, I don't remember how to paint! How'm I supposed to paint all that HAIR??" stage) ….


I didn't tell you about how I messed that poor portrait up enough that I painted over it … TWICE! I'm now on version three. Even though his owner has had to wait all this time, I think the end result will be better for it. I wish I had total control over this thing, but sometimes I'm just not ready for a certain painting! I've now got time to work on two that had stalled out like that. Fluffy's, because his wonderful fur was defeating me, will now be better for my having worked on the silken windhounds for the last few weeks. (The other one, we'll get to in turn.)


Work in Progress: Fluffy
8″x 10″ acrylic on gessoed panel
©Xan Blackburn, 2011
I prepared several boards on Sunday with toned gesso. Four are in anticipation of doing some drawing/paintings (kind of like I did for Hunter), and one was for Fluffy. (Working with the chalky-thick blendable tones of gesso made me want to paint with gouache again. I might have to push some gouache into something soon!) I thought I might take a similar approach to Fluffy's portrait, but that's not what's happening. Here's where we are this morning.
I started to sketch, but realized quickly that I needed to mostly define his fur as light, not dark (pencil), so switched to paint. This is all still super rough and funky, but the shapes are there, I know where things are. Now I can concentrate on getting that fur texture.
Notice that some areas are warmer -towards the outer edges – and some are cooler – in towards his face. I want to set him off from the cool background with warmer shadows, and give him the feel of a warm, living critter, and also create a frame for his sweet little face. It will be interesting to see this vague cloud refine into recognizable Fluffy!


The other boards I prepped will be for marketing purposes, to show my ability to represent other breeds. That's what the reference request is all about. The plan is, they'll be showing up at NAKC events. H and I have been working on packable easel plans for these, and I think I've come up with something brilliant. Let's see if H and I can make it manifest in the real world!