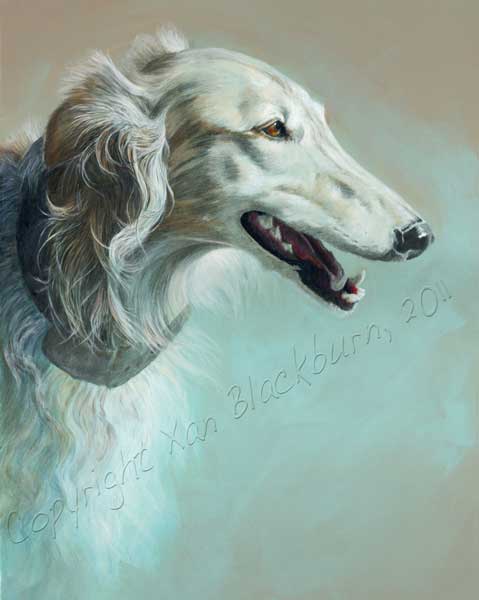 Tangaloor Malden, CGC "Hunter"
11″ x 14″ acrylic and graphite on Gessobord
©Xan Blackburn, 2011
A lot of careful work went into refining the silky hairs swirling around the ear and down the neck, bringing them in and out of shadows, giving them dimension, giving them some color, making them finer. Much more shadow was needed along the back of the face, and in the mouth. I couldn't achieve a deep enough dark for the contrast I wanted in the mouth, so I used mixes of Payne's Gray, some red, some raw umber, a little Naples yellow in some areas, to give it the depth it needed. The nose and eye also got some of this treatment. I want the focus on the face, with some other interest to set it off, but the exciting busy-ness of the ear had begun to take over the show. These deep shadows brought the balance back.
While working on the mouth, I realized I'd gotten a bit off on the lower lip area, between the canine and the big molars. It was not thick enough. Bringing that dark back down where it belonged and marrying it with the areas previously brought almost to a finished state took up some time, but it was worth the effort to get right.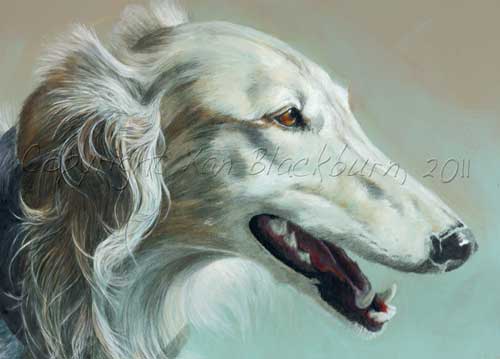 Tangaloor Malden, CGC "Hunter" (detail)
11″ x 14″ acrylic and graphite on Gessobord
©Xan Blackburn, 2011
Getting the hot and cool reds in the mouth is always interesting. The light may bounce off a wet tongue, leaving a cool highlight, or shine into or through the tongue or edge of gumline, leaving a much warmer color. You can see an almost flame-hot red at the edge of the lower incisors, and an almost blue highlight along the surface of the tongue, curving round to some warmer reds along the near edge, cooling yet again along the gum below the molars. It's not easy to see in this .jpg, I'm afraid.
I loved the silky way his fur is streaked with soft gold and pencil-gray. In greyhounds, we call that blue fawn brindle. I'm not sure what that coloring is called for silkens. Anyone? Another difference between greyhounds and silkens is their noses. Greyhounds nose leather projects beyond the muzzle a bit, almost like a black clown nose stuck on there for laughs! But, I'd gotten used to it. I had to really look and SEE that silkens' nose leather is more compact, more integrated with the muzzle. That SEEing thing can be so tricky. We assume we know how something looks, and miss the reality, which can throw everything off. Impressionism is all well and good, but the essential points have to click. For me, that is!
By around 5pm, I felt pretty well finished with Hunter himself, and took stock of the painting as a whole, and how, or if, I might shift its atmosphere. I wasn't sure it needed it anymore, now that Hunter's features were better defined, and his personality was able to assert itself. But, I had a pre-conceived notion, you know!
After a traumatic evening, where I tried to take this painting away from the direction it has insisted on from the start, and then had to pull it back from the brink of disaster, I think I'm going to keep my hands off it from now on.
I had forgotten my original intent to smudge it up, layer glazes on it, sand through them, and basically give it an aged feel, a sort of lost in time effect. When I tried laying on some translucent glaze, using matte medium and raw sienna (a rich reddish brown), I was already nervous about wrecking it, and over-worked the glaze, resulting in a sticky, funky mess. Much grungier than I had intended! In a near panic, I took a sponge and carefully rubbed off what I could, leaving it just less grungy, but still in an uncontrolled, funky way. I decided I better stop for the evening. I retreated a bit depressed, drained. But not utterly defeated somehow, though I didn't know what I'd do to fix my mess.
I couldn't resist going and looking at it again later, of course. I remembered I had intended to sand this painting, so I grabbed some fine sandpaper, and started working on the areas I'd goofed up. That helped, but then I went right through the turquoise and brown gesso underpainting in some speckles, so I stopped and left again. When I came back after dinner (a snack, really, as I was too preoccupied to actually cook), I pulled out the gesso I'd mixed and kept separate all this time. It was still wet, so I re-worked the areas I'd sanded, feathering them into the original background the best I could, and left yet again to let it dry. When I looked one last time before bed, I could finally breathe a sigh of relief: it was back to where it had been before the grunge attack! My eyes were aching. I slept like a log ('til about 4:30, but that's another story!) And here we are today.
Tomorrow morning I have an appointment to get these three paintings scanned professionally, in case I want to make reproductions in the future. That gives me one working day (well, half a day now) to maybe do a drawing or something small, perhaps, if I want to get that in on the scanning, too. I'll need everything to be dry, framed and packed for the trip by Friday, a week and a half off. Plenty to do in the mean time, but I might try to get in a few drawings still. We'll see!
Let me know what you think of Hunter's portrait, and the others!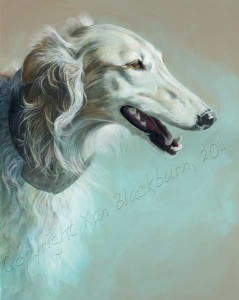 Hunter
©Xan Blackburn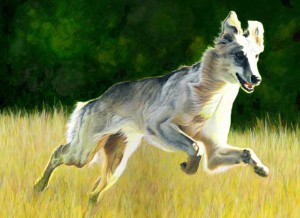 Delaney
©Xan Blackburn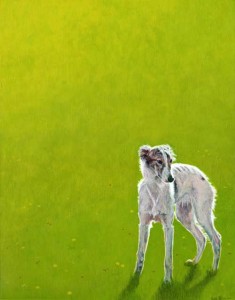 Bados
©Xan Blackburn