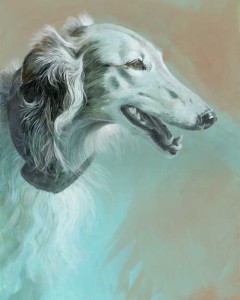 Work in Progress, "Hunter"
silken windhound
Graphite, acrylic, on gessobord, 11″x 14″
©Xan Blackburn, 2011
HUNTER! Yes, his name is Hunter. Christina of New York's Hunter. The cats are yelling at me for their dinner, so I'll be brief. Here's where we are today, with a fair amount to go. As you can see, I spent a lot of time in the ear fringe and mane. I'm mainly happy with this, but I see some saccharine sweetness that may have to be expunged in some way. Motel art is not my goal, here! A dog, and a dog with a name like Hunter, and an athlete like a sighthound, should not just be pretty. My husband said I was expressing the "My Little Pony-ness" of the breed, but that's not what I want, here!
Okay, anyway, the cats are still yelling. I gotta go. Enjoy!