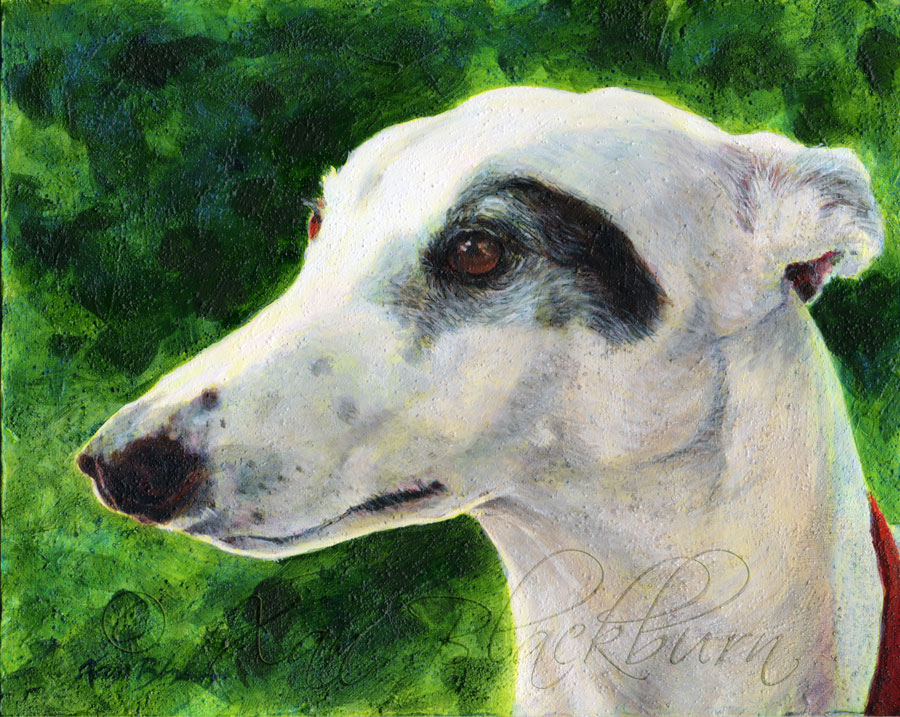 Steve and Gayle are artists in their own right.  I've been honored to be asked by their friends to do two memorial portraits for them (Sadie, and Katie), so when their daughter, Rachel, asked me to do another of the legendary Alex, I was thrilled.  I had a crush on him that was tragic: I never knew about him during his lifetime, only later from his legacy in Steve's photography, and presence on the greyhound forum, Greytalk.
It always starts with a photo.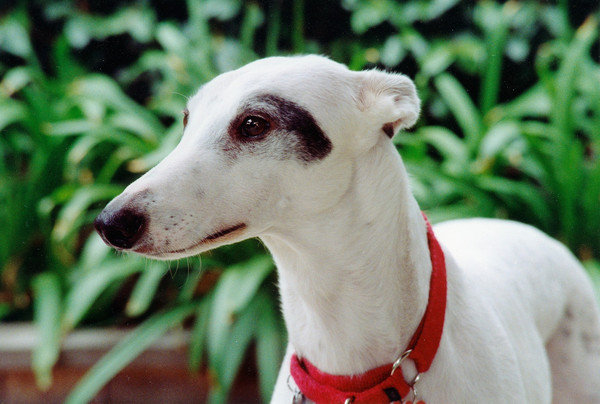 Alex © Steve Uyehara
As it was taken by a pro, I had little to do to make it paintable except to crop it, and get started interpreting it in paint, so I was off and running.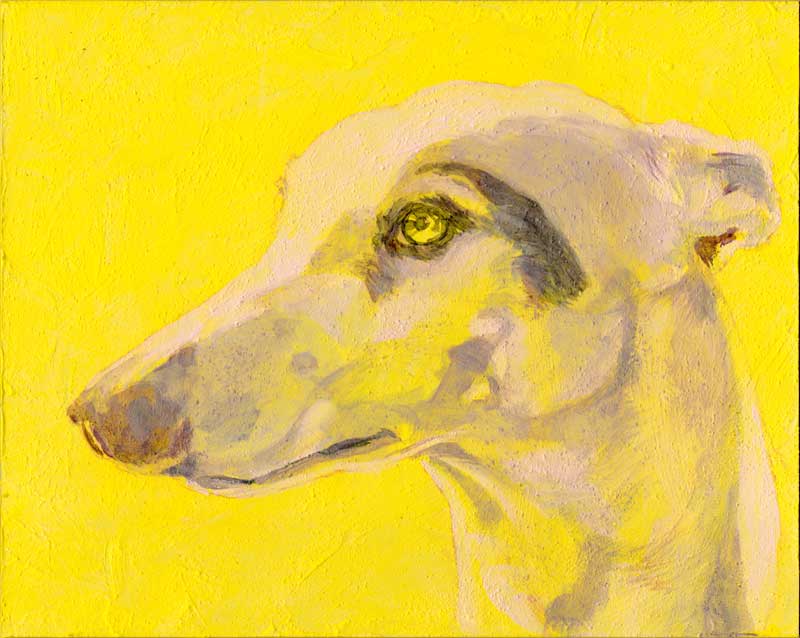 So, that was a bold move, eh?  Starting with that intense yellow?  Yeah.  I can't remember now why I thought that was such a great idea, but I really like the complexity it lends to the final portrait. This stage shows that I approached the underpainting differently than I usually do (starting with a monochromatic painting establishing the form and shadows, then glazing color layers on top of that).  I like how this looks even at this stage.  Kind of ghostly and loose, but with all the elements in their proper places.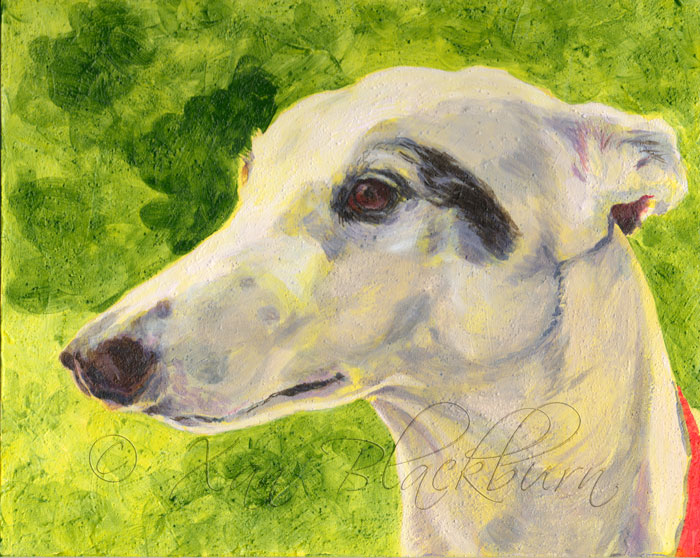 I started layering in the background so I could make sure I got the contrasts between the dark green foliage and the mostly-white dog right.  I don't know if you can tell, but I was using a lot of violet tones to tame the yellow, as they are complementary colors (opposites on the color wheel).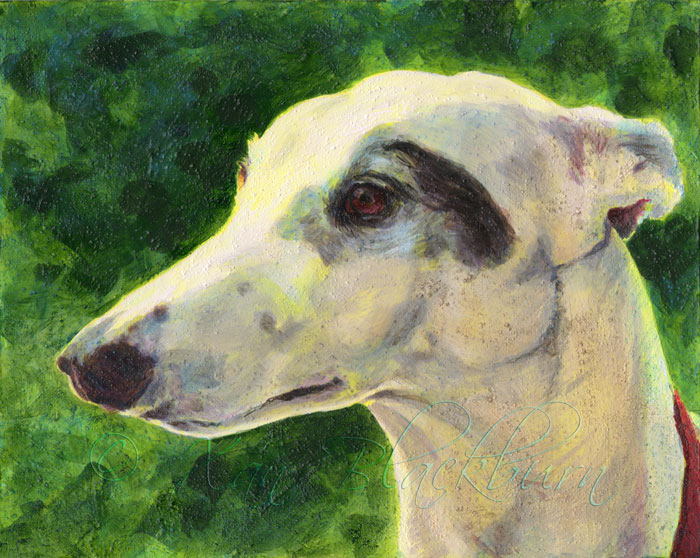 Getting closer. Adding blues to the foliage and into Alex's mid-range shadow areas, and continuing to refine throughout the painting.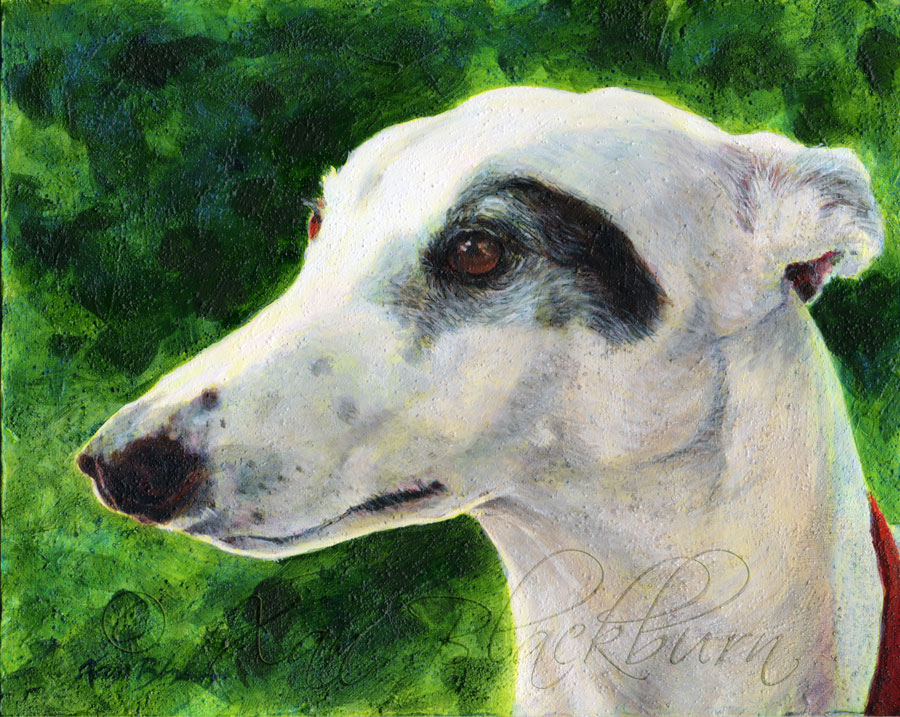 And done!  You can still see that yellow warming the shadow side, and glowing through the foliage like summer sun.  I hope they enjoy the portrait for many years to come.
I've also been working on some secret projects not yet ready for public viewing.  Watch this space for the reveals!