And now for something completely different!
Well, it's still a silken windhound, but I'm working on this one really differently. I figured I'd better write this down before I forgot what I did, and what my original thought is, so here goes.
I wanted to combine a graphite drawing with acrylic. My original concept is a little vague, since I've never done this before, but it involves layers of paint, pencil, sanding, glaze, more sanding, more paint, more pencil, more of all the above …. Sort of the lasagna approach, if you will. I did a couple little sample bits, just to work out the way that might end up looking (which I will not show you!), and then decided to jump right in.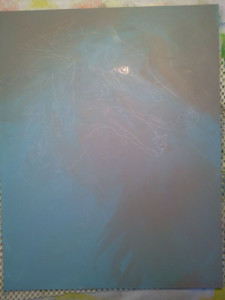 I chose my subject as a head-only portrait. (Any guesses who this is?) Working on an 11 x 14 gessoed panel, I started with some acrylic gesso, mixed with blues, burnt umber, and Naples Yellow, keeping the blues where the dog would go, more or less, and the warmer tones around it, loose and vague. I'm not at all sure how much of that will show in the end, but that's the first layer. I chose to use the gesso because I want the surface to still have some more tooth than straight acrylics; more like a chalkboard than the side of a water bottle.
I transferred the drawing, using white transfer paper (like carbon paper, but leaves white marks), and keeping it pretty simple. I didn't want the transfer to interfere with my pencil later, just give me some key locations to work from. In this first pic, you can sort of see the drawing in places, and the glowy eye is actually where I started working in some pencil, which made a glare. Sorry!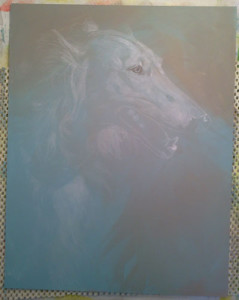 Work in Progress
mixed media (acrylic, graphite) on panel, 11″ x 14″
©Xan Blackburn, 2011
I got the eye established a bit before I realized I might really want to get in those white areas first.
Maybe. I don't know.
I'm really flying by the seat of my pants, here! Just in case, I started working on the highlights. I'm already liking the feel of this, and I hope I have the courage to do the experimental stuff to it when the time comes!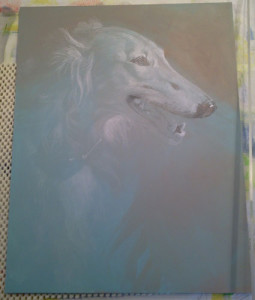 Work in Progress
mixed media (acrylic, graphite) on panel, 11″ x 14″
©Xan Blackburn, 2011
Here you can see I've got the whites fairly well placed, but only in a ghosty sort of way. I wanted to work in the pencil some more, starting in the face.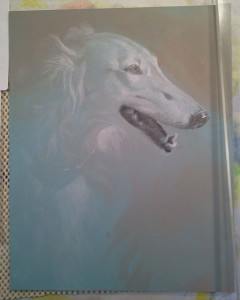 Work in Progress
mixed media (acrylic, graphite) on panel, 11″ x 14″
©Xan Blackburn, 2011
Sorry about the shadows running down the side there. That's my hand rest thingy, to keep me from sludging my hand or sleeve through my work. I made it myself!
Anyhow, this is still pretty subtle, but it's got a very ethereal feel to it that I like. Let's take a closer look at the face.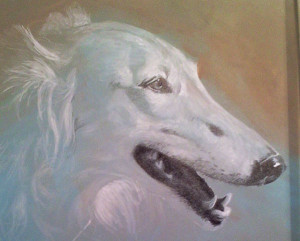 Work in Progress, detail
mixed media (acrylic, graphite) on panel, 11″ x 14″
©Xan Blackburn, 2011
That's better.
I had several days away from my artwork, what with the holiday, a family visit, and a sudden panic that I wouldn't have the stuff I need for the event (frames, mat board, a way to display my prints, a way to take credit cards in case my fancy new [used] device doesn't work …), so it's good to be back to it! I think my original idea of how much stuff I'd be bringing was ambitious, but I'm getting to be okay with what I will have, so there you go.
Any guesses who this elegant hound might be, from what you can see so far?