Man, I really hope someone guesses who this is, soon! My titles are going to start looking like a math lesson!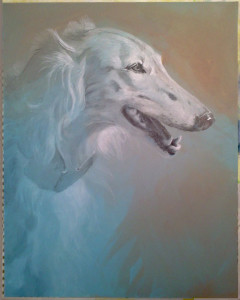 Work in Progress
mixed media (acrylic, graphite) on panel, 11″ x 14″
©Xan Blackburn, 2011
Today started with some corrections, and some timidity. I got a used Galaxy Tab recently (I might have to give that thing its own post at some point), which has a better camera in it than my phone, which made it convenient enough to choose it over taking multiple stage scans at every little stage. It also has a nice little display (7″) which I can zoom in on, etc., which makes it a great reference tool. Usually, I print out my reference photo, and have that on my work table while I paint. But, my printer isn't the greatest, and, looking at the Tab's version next to the printer's version showed me a LOT that I had missed or misinterpreted. All that might have been okay, for the purposes of this portrait, but once I had the better picture, I had to work from that!
I had gotten a sort of uniform darkness in the mouth that wasn't right. I had tried to correct it yesterday, but wasn't happy with that, either. The graphite just would NOT come off the board in the usual way (kneaded eraser, Blu Tack) or the unusual ways (sanding, cursing). I had dabbed some of the background paint I had kept, but that needed to be smoothed and re-integrated into the whole. This morning, I decided to return to the Blu Tack. That's great stuff for pencil work! As it's actually adhesive, without forming any residue, it picks up the graphite dust rather than spreading it around or rubbing it off. I made my little wad about the right size, and rolled it repeatedly over the mouth area, re-kneading and re-wadding as necessary to keep a clean surface. It eventually picked up enough so that I could work back in the shading I wanted. Yeay!
Now to conquer my timidity! It's looking so cool the way it is that I was afraid to mess it up, and intimidated by how much work there is still to go to reach my original idea. I started pecking away with my pencils, taking frequent breaks to compare hardness on various other surfaces, sharpen them, step back and squint, check my reference again …. I realized I wasn't going to get anywhere like that, so I decided to try using a stump (a blending tool made from soft paper, rolled tightly and with a conical tip on each end) to very softly smudge in some areas of shadow, get me over the hump of treading on all that freshly fallen snow before me. That helped. Then I decided I needed a broader stroke, to block in large areas where shadows were deepest.
Using the matte medium I bought yesterday, to keep (hopefully!) enough texture to the surface that I can still draw on it, I diluted a mix of payne's grey and burnt umber, leaning towards the warm umber, to wash in some shadows along the back of the face, under the chin, and behind the ear fringe. Very light washes, since I'm still feeling timid, and I don't want to commit to too much, nor take away from the pencil work I'm still intending to do there. All that is in the first picture above.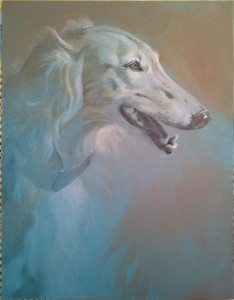 Work in Progress
mixed media (acrylic, graphite) on panel, 11″ x 14″
©Xan Blackburn, 2011
That brings us to this picture. Next, I decided to wash in some of the subtle tawny color this dog has. (Now any guesses who this is?)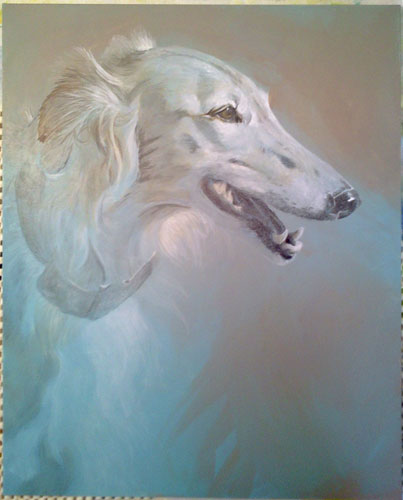 Work in Progress
mixed media (acrylic, graphite) on panel, 11″ x 14″
©Xan Blackburn, 2011
Another look at my reference and I realize I've foggily edited out the back of the ear, where it lays against the neck (it's completely shadowed out in my printed reference!) Trying to decide whether to work it in, or leave it all softly shadowy and vague back there, I look closely at the reference photo, and see all these lovely internal shadows and highlights within that area, including the edge of the ear. I decide to do it.
I guess I took this photo when the paint was still damp enough to glare. That's a bummer. Well, at least you can see the back of the ear, and how I've worked in some of that tawny red tone around and into the eye as well. I also used that color, mixed with white, to add some warm color to the teeth, and warmed up some of the highlights elsewhere as well. Now the molars are too light, but that's easy to remedy.
Okay! Between lunch, making this post, taking the dogs out one at a time *sigh* and answering the intervening emails, it's now quarter to three! Back to painting!