I've been processing photos submitted for the
Fall Portrait Marathon
, wrapping up my big mystery commission (that ran over into Portrait Marathon time! :rolleyes: ), communicating with the winners, and sketching up the first Fall Portrait Marathon (hereinafter referred to as FPM) painting.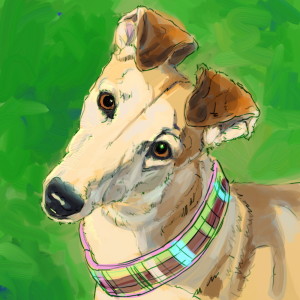 Hailey-Sketch
Digital painting, ©Xan Blackburn 2011
I did a quicky
ArtRage
painting to get the feel of an idea I've been playing with, and I kind of like the sketch, even though I don't think that's how I'll end up doing the painting, exactly. This is Christine's Hailey (sketch!!!)
She made a special request to use this particular collar, which is really cute. Don't you love her ears, and that head tilt? This is going to be fun.
I'm having my usual difficulty transferring the drawing to the canvas. Anyone have any fabulous ideas for that?? I use transfer paper, but the canvas flexes away from the pressure of the pen, which means that I don't get a good transfer. It's a challenge, what can I say.
But, let me sort of wrap up my mystery portrait's progress. (Sorry for the layout. I realize it's a mess. I can't seem to fix it!) I still can't give you the full reveal, but let me just give you a series of pictures to show bits of it as it evolved.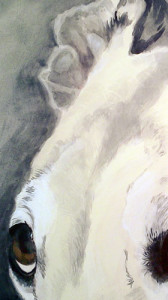 Monday 1
work in progress
©Xan Blackburn 2011
Monday 1: This one shows a little progress since Friday. This is where I picked it up on Monday morning. A bit of highlighting, and some color in the eyes.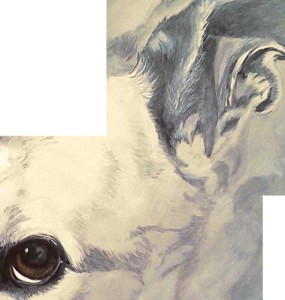 Monday 2
work in progress
©Xan Blackburn 2011
Monday 2: This one shows a little more detail going in. Still no color. Working in Payne's Gray on the dilute Naples Yellow background.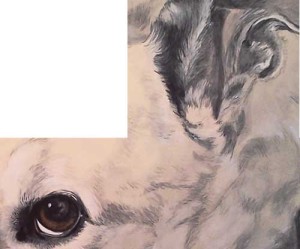 Monday 3
work in progress
©Xan Blackburn 2011
Monday 3: More detail, some added whites …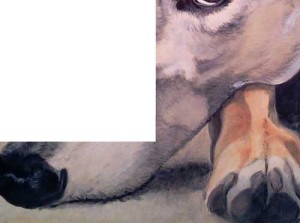 Monday 4
work in progress
©Xan Blackburn 2011
Monday 4: Some color going in! Basic underpainting is done …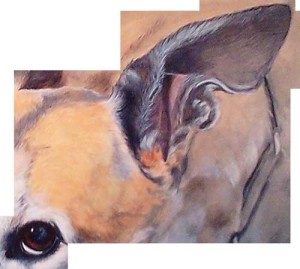 Tuesday 1
work in progress
©Xan Blackburn 2011
Tuesday 1: Big jump here. You can see I have all the basic colors in over the underpainting of darks and lights. Details and more details will be layered on top of this stage.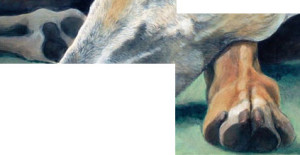 Mystery completed!
acrylic on Gessobord, 16″ x 20″
©Xan Blackburn 2011
Mystery Complete: Well, not really, since it's still a mystery, eh?
When the gift is officially handed over, I'll show you the whole thing. There were lots of challenges here, involving questionable colors that had to be shifted dramatically, many small heart attacks of the usual sort (I'm such a chicken!), but I think in the end I'm pleased with the final result.
Stay tuned for the FPM progress reports! I'm so excited. There are cats and greyhounds in the mix, and I can't wait to get at them. Wait 'til you see the stripy cats, and the quirky pups. Oh yeah. This is going to be fun.