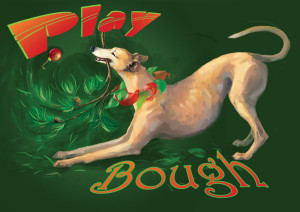 "Play Bough"
Limited Edition holiday card for 2011
©Xan Blackburn, 2011
With thanks to Rebecca Forrest for the concept, I had a lot of fun painting this image. The fawn greyhound reminds me of my own Brilly, who was a handy model.
This really is a limited edition! I had a small number printed, and when they're gone, that's it. There will only be a few of these winging through the postal service, making them a good choice for someone looking for a more unique card.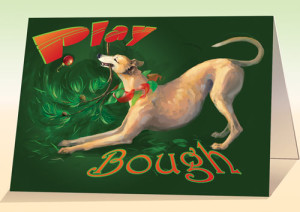 As always, Stroke of Green offers products as green as I can get them, from the printing to the packaging. They come 10 to a package for $20, and are blank inside for your own message.
Some of you responded to my e
arlier question
about whether they'd prefer "pretty/serious" or "funny" cards. The consensus seems to be "both!" Thanks for helping me narrow that down! LOL! Maybe I'll have to do two cards a year, or just figure out how to do both in one card.