We still have time to do this, so we're going for it!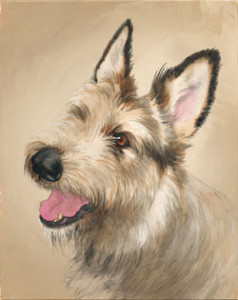 Berger Picard "Daddy"
Work in progress
Acrylic on panel 8″ x 10″
© Xan Blackburn 2012


MONDAY, Nov. 26 – Mon., Dec 17
Just in time for holiday gifting, I'm taking three weeks after Thanksgiving to do a portrait marathon!
As always, it will be first-come, first-served, sign ups starting on Friday the 23rd, at 9am PST.
That's right; "Black Friday"! Take a little break from the shopping madness. 😉
This time, you'll have a choice of either 5″ x 5″, gallery-wrapped canvas or panel (either can be displayed without framing, but framing is great for either, as well),
or 8″ x 10″ panel. The 5″ x 5″ portraits are $80, and the 8″ x 10″ are specially priced for the Marathon at $150 (that's $110 off!)
I'll remind you on my blog and Facebook that morning, with the link to the sign up form, but for those of you who will need no reminder (you know who you are! LOL!), here's the link. Any entries before 11/23 9am PST will not get on the list, so … wait … for … it …
😉
In the mean time,
I'm still working on my portrait of Lily and her Daddy. I've also been designing holiday cards for a commercial client, and my husband's business.
But, and this might interest you, I've also designed a card just for you. It's a little thank-you to my readers and clients, with a little DIY extra. If you'd like to receive a card from me, please
fill out this address form
. And, even if you don't, THANK YOU.