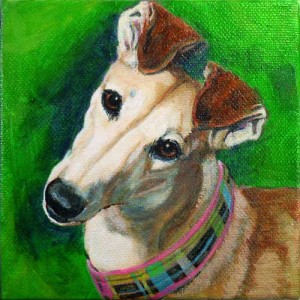 Christine's Hailey
acrylic on canvas, 5″ x 5″
©Xan Blackburn 2011
Fall Portrait Marathon: First painting is complete.
Christine's pretty fawn greyhound, Hailey, was simply a joy to paint. This is what I had in my head while I was working, from Hailey's mom:
Hailey was diagnosed with osteo when we got back from Dewey. She started limping while she was there.

Hailey is my sweetpea. My special princess. We call her princess a lot of the time. Princess, angel puff and sweetpea are her nick names.

J

Hailey is my cuddler, my love. She thinks she's a lap dog. She is the sweetest thing on earth but she also has a funny side. If she wants something and I'm not quick enough, she will stomp her foot at me!!! I love her. She's my life. All my kids are. Fur or skin. She gives me happy teeth all the time and she looks right through me with those eyes!!!
I didn't want to make a sad painting. Hailey is alive, and I want to give Christine something that will always remind her of the joy and simplicity, the love and sunny day memories they are still collecting.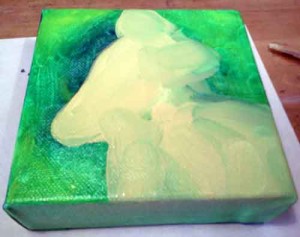 Hailey- stage 1
So, how did we get from this >>>
to that up there?
Well, you might remember I was complaining that I was having a hard time transferring my drawing to the canvas, right? So, what I did was the same thing I did for the big Mystery Painting, basically. I scribbled the back of the drawing with conte crayon (like chalk pastel), flipped it back over, onto the canvas when it already had this paint on it, and then traced over my drawing nice and hard. The pastel made a very good transfer, thank goodness, which I then glazed over with a bit of gloss medium mixed with Naples yellow, so the pastel dust wouldn't get funky with the layers of paint on top of it. I had to adjust my edges quite a bit, since I only sort of eye-balled the shape in that first step. So, Hailey 2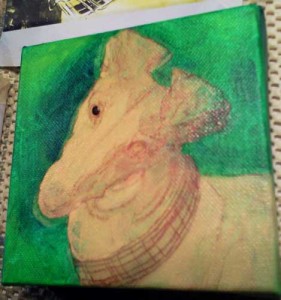 Hailey – stage 2
shows you the drawing, glazed over, with the background in the first stages of being pulled back up to the edge of her face, or pushed back out in a couple places, and one pupil painted in.
Next time, I won't bother with the background before I transfer the drawing. That didn't work out the way I imagined it would.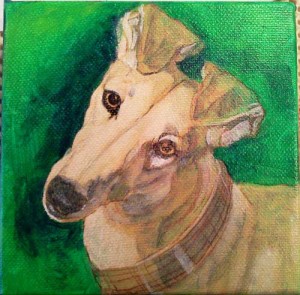 At this point, I started in with the under painting, laying in my shading, and coming way up with the highlights. I really liked how this looked. I like the vague and dreamy feel of it. Except the one eye is so much darker. But, it's just a phase!
Onward. I kept building, darks, lights, details, and then color. I used some pretty straight blues in the shadows, which I really liked. Unfortunately, despite my best efforts at reproducing it here, this just isn't showing you the real look of the final painting. Close, though. I actually scanned it, and took a photo with my Tablet, then dinked with both in Photoshop, and then sandwiched them together to get as close as possible.
I'm quite pleased with this little painting! I hope Christine is. 🙂
Now, on to Chris's Toni!