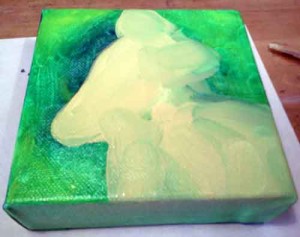 Hailey-work in progress
acrylic on canvas, 5″ x 5″
©Xan Blackburn 2011
Fall Portrait Marathon, first painting.
Hailey is up first. You saw my digital sketch in my last post. I decided to bring some of that feel to the canvas. Hope this works! I used a retarder (an additive to slow down the drying time of the paint, so I could smoosh the paint around with less rush), which means it needs a little time to dry before the next step, so here I am writing about it.
I probably could have skipped the retarder. Oh well.
Okay, it's still wet, and I don't have anything else to say about it. So, I went ahead and started working on the next one!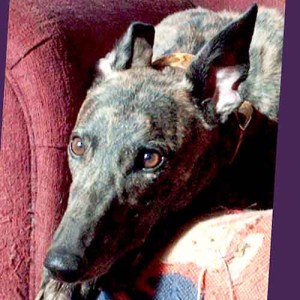 Toni: reference photo
Second painting is Toni, also a greyhound. A gorgeous dark brindle girl her owner describes as "a pistol"! This is the reference picture I'll be using.
Her owner also says orange is her favorite color (Toni's, that is). I'm waiting to hear back if I should use it prominently in the portrait. Since it's also MY favorite color … I may go for it anyway!
Hm. Hailey is still sticky. I'm going to work on the sketch for Toni's portrait.
Stay tuned!