Fall Portrait Marathon, painting #2
"Toni," says her mom,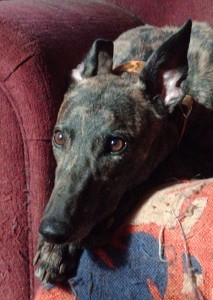 is a pistol! She's very much a tomboy girl – always wants to rough house and wrestle and play, though both these pics show her more pensive and sweet side. She's smart and sassy, loves squeaky toys and balls, and LOVES the water! Her favorite color is orange.
Well, I'm a big fan of orange, myself! In the Spring Portrait Marathon, I did a portrait of Toni's sis, Dorie, and the color scheme was a *ahem* rather bold red-orange and sky blue.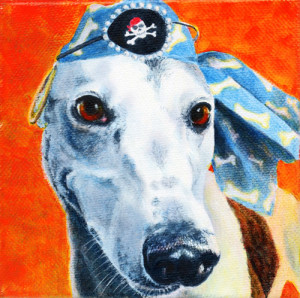 Dorie
5″x5″ acrylic on canvas
©Xan Blackburn 2011
Chris asked if Toni's portrait would be "similar or complementary to the background for Dorie's." So, of course, I started my sketch with that in mind.
Toni – SKETCH
Digital. ©Xan Blackburn 2011
As you've probably noticed, Toni s a gorgeous dark brindle, with gold and charcoal stroking her fur, where Dorie is mostly white, at least on her face. Big difference. If I do the background hot orange, it will compete with Toni's gold stripes, and win all the attention. That won't do. I finally gave up trying to cool Toni down enough to win over that hot orange background, and reversed the color scheme. Now, the blue that shows up in Dorie's pirate scarf appears in Toni's background, letting all her golden glory shine. Here's my ArtRage sketch. —>>>
The colors are in their approximate places; I didn't want to spend too much time on the sketch. It's just to work out the concepts. She looks kind of worried in the sketch, but I'll make sure she looks more poised and alert in the painting. My goal is to get a sense that she's ready to spring off the couch at the slightest excuse.
My own greyhound, Brilly, had a big dental the other day, losing something like a dozen teeth, which has made a rough couple nights for us all, and a couple of days of cleaning up blood and doing laundry. It's not even 4pm, but since I was up by 4 AM, after about 4 hours' sleep, it feels much … much … later. I'm not going to attempt something with actual paint that I'll have to fix tomorrow; I'm calling it a day! Sunday during a Portrait Marathon is no day of rest. I'll be back at it in the morning. See you tomorrow!