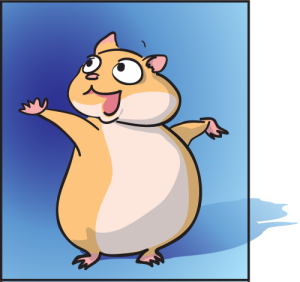 Belling Hamster
© Xan Blackburn 2012
That's pretty graphic, wouldn't you say? Well, it's a graphic, anyway.
Projects all have gaps in them, some longer than others, so I like to keep a few going at a time. Keeps me fresh and working if I hit a block wall in one area, too. As fate would have it, and despite my intention to concentrate on portraits, graphics work has really been the theme for the last few weeks.
The Belling Hamster was drawn for an awareness campaign in Bellingham, WA, letting folks know that plastic bags are now banned in that city. (The unofficial citizen nick-name is Bellinghamster, you see.)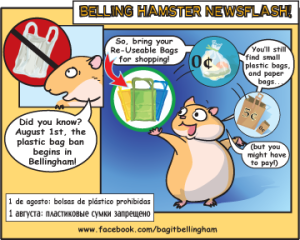 Plastic Bag Ban, Bellingham
infographic
© Xan Blackburn 2012
The graphic had to contain a lot of information, yet still fit in a small newspaper ad space. Luckily, I was able to use color to help off-set the objects more, and give eye-appeal. It also needed to include Spanish and Russian as well as English (thanks, google translate! I hope it's not too far off!)

Real Estate Logo
by Xan Blackburn, © Brian Southwick 2012
The original concept for the ad was repetitive photos of bag types with the various language messages all in a grid. I thought it would be more fun to make the Hamster a character in his own right, a mascot. If he has more work to do, it will be fun to continue his adventures.
Just as the Heronswood logo was wrapping up, I got an email from a realtor who is partnering with my friend and client from the Heronswood project, asking about a logo for himself. He had a concept of a guy on a unicycle, with his name, and maybe the motto. He even sent a picture of himself on a unicycle! Loved that. Guy in a suit, with a golf club in one hand, and a briefcase in the other, at a rakish tilt, on a unicycle! After a bit of backing and forthing, including the first sketch being a total flop, prompting him to give up his idea altogether, we worked up to this version, which we're all happy with. It was a lesson in communication, really. He didn't like my first take, and I had to talk him back towards getting his heart's desire rather than scrap the idea. Graphics are invariably a process, a collaboration between the client and the artist. Well, I guess that's true with the portraits, too.
This last logo actually started almost a year ago, when I first met the client at a tiny dog show in Placerville, CA (where I was trolling for work, of course). She had a cute poodle-like dog she informed me was a Lagotto Romagnolo, a truffle-hunter, and not a poodle at all. He was deep chocolate from nose to tail, and a real love-muffin. Her breed club needed a logo, so I gave her my card, and work began some time after that.
The group had a photo they liked of a dog's head. They wanted an image that looked like a pencil drawing, very detailed, of this dog. I did my best to dissuade them, as that effect can have a very hard time being re-sized, either very large (it goes all to bits) or very small (it just becomes a smudge), but they had their hearts set, so I set out to make it work the best I could.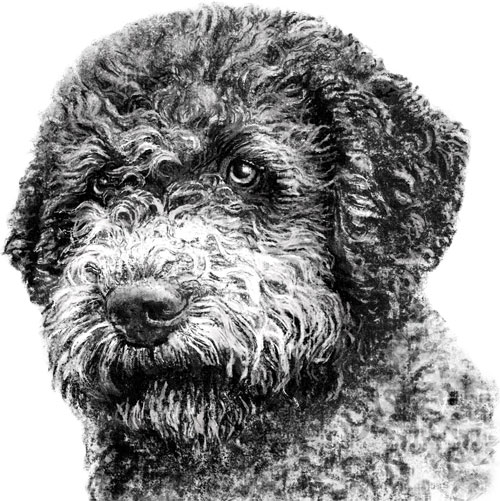 Lagotto Romagnolo Club of America Logo: dog head
© LRCA 2012, by Xan Blackburn
Here's the drawing itself. I created it mostly in Photoshop, in the usual way: a variety of brushes, varying opacity, etc.. There was some adjustment needed to the facial proportions and eye placement along the way, as the original photo wasn't very clear and the far eye was hidden in fur, and I'm not familiar enough with the breed to see the finest points of conformation. We eventually got consensus on the dog, and moved on to various ornaments and fonts to complete the logo. In the end, I provided them with a few variations, both in chocolate brown and black.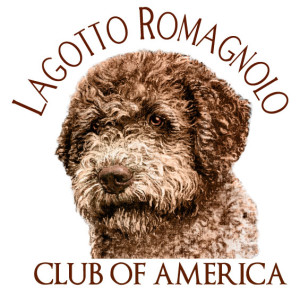 Lagotto Romagnolo Club of America
Logo: arched
© LRCA 2012, by Xan Blackburn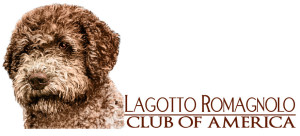 Lagotto Romagnolo Club of America Logo: horizontal
© LRCA 2012, by Xan Blackburn
I tried to make the drawing big enough in the original that it will size up without getting too bitty. The smaller versions will hopefully have enough contrast to have some form, if not a lot of detail.
Okay, so, now that all my graphics are done for the time being, I still have my painting of
Dad and Lilly
to work on, as well as my soft sculpture portrait. That one has me in fits, I must admit. I have my drawings all over the place, trying to work out the best way to get some dimension without getting too far beyond my rudimentary sewing skills. I think I'm going to do a trial version in some material I've had sitting around for years. If it works at all, it will be fun: a greyhound in retro geranium floral print! If not, I will have at least learned what NOT to do.
Onward!