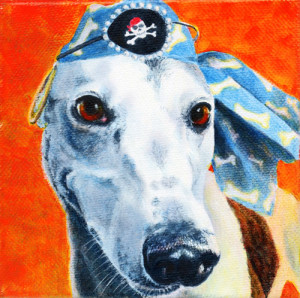 Dorie's portrait is finished!
I like her Mona Lisa smile, combining with the pirate get-up for an interesting mood.
Since my last post, you can see that I layered in lots of blues, not just in the bonnet, but in her face and body as well. I reclaimed the little fuzzy bit of her ear you can see inside the gold hoop. Lots of additional small details have gone in; some hairs picked out, whiskers added, highlights and lighter tones in the eyes, her lower lip darkened, the texture in the nose. I'm particularly happy with how that texture came out, and this .jpg does not do it justice. ;P The fiery background has been mottled on the left with a darker tone, and on the right with some more yellow. That doesn't show very well at all, despite a good deal of time in Photoshop trying to regain the sense of the original. Ah well! Chris will get to appreciate all that attention to detail when she sees it in person, right? The little string of pearls around the pirate patch on her head are also quite pearl-y, and the kerchief has good dimension, which I'm happy with, too. It's up to Chris to say if I got Dorie's personality right!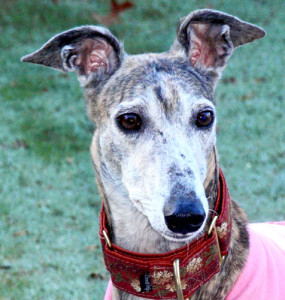 Next up is Lisa's Gambling Nikki. Or, "Licky Nikki", as her family fondly refers to her. A big kisser, this one! Isn't she a cutie? She looks like she's homing in on her next kiss target! LOL!