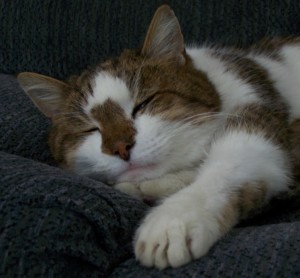 Spencer-Reference photo
Fall Portrait Marathon, Painting #4: Spencer
Lisa's kitty, Spencer, in his sleepy pose, is pretty inviting, eh? Don't you just want to snuggle your face into that soft warm fur? Mmm.
Spencer was a Special Cat. Lisa's friend Jan told me some of his story.



The boy loved ice cream and popcorn, and catmint. Lisa said the only way her DH could finish a bowl of ice cream was to hold the bowl over his head away from Spence!

When Spencer arrived at our vet's office, our vet knew that Lisa's house was The Place for him, despite of, or actually because of, his medical probs and life expectancy of ~6 mos. Two+ years later, he was one happy boy who died in his sleep on a sunny afternoon. He was probably 17 or 18 years old. Spencer was a *greyt* cat – how many cats have their own veranda?
Lisa told me this in her introductory notes:
We quickly learned his favorite place in the world was to be stretched out on your lap, where he spent many many hours during the two years we had with him. He left us two months ago, and we miss seeing his smile as he stretched that big white paw out in front of him.
Are you misty-eyed, yet? sniff
Okay, let's get to the portrait before we're all shorting out our keyboards, here.
I cropped the photo, and lightened up some areas so we'd get a little more focus on his sweet sleepy face.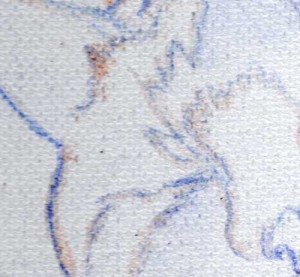 Spencer DETAIL – Work in progress
©Xan Blackburn 2011
This time, I decided to prep the canvas a bit, so I could count on a little more detail by having a smoother surface. I sanded it with a fine-grit sandpaper, and wiped it with a damp microfiber cloth. While it was still dampish, I transferred the drawing to the canvas using a blue conte crayon. I then used some raw umber thinned a lot with medium to trace over the whole drawing, using the tip of a small brush. I didn't want to wash off the drawing again!
You can see how that worked in this detail. Pretty well, actually!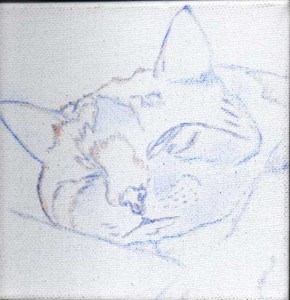 Spencer – Work in progress
©Xan Blackburn 2011
That brings us to here. Ready to get painting.
The scanner cut it off a bit, but his ear is visible just to the tip on the left.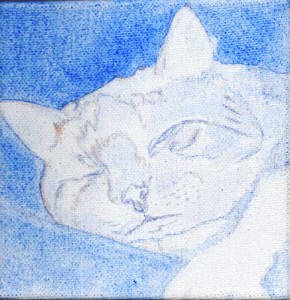 Spencer – Work in progress
©Xan Blackburn 2011
I used some ultramarine blue to wash in the first layer of color in the couch, and set off the cool background from the warm kitty. I did make a watery-thin excursion into Spencer, to cool the areas I intend to keep more shadowed.
Watch how the perspective on that paw reaching towards us develops. Right now, it looks flat and odd, but shading and detail will put it in place as we go along.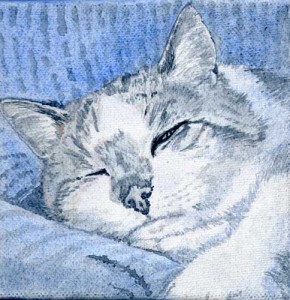 Spencer – Work in progress
©Xan Blackburn 2011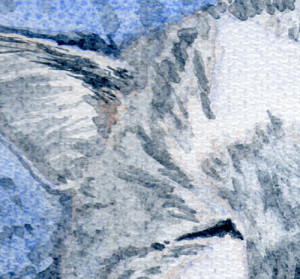 Spencer – Work in progress
©Xan Blackburn 2011
Using Payne's Gray, I started in with the darks, trying to keep a sense of the fur right from the start, as opposed to washing in looser areas. You can see that better in this detail.
Already, I'm glad I did that sanding before painting! I want to be able to do these fine strokes, and not have them blurred by a coarse surface.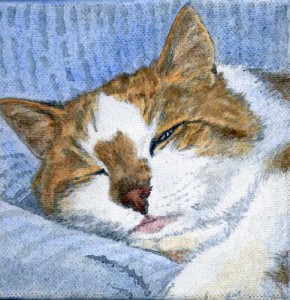 Spencer – Work in progress
©Xan Blackburn 2011
Time to hit the color.
I mixed some Naples yellow and raw sienna to get a golden brown, and added medium to get my glaze. I brushed that in in all the colored zones of Spencer's fur to get a warm gold base. Notice there's a bit of that warmth washed into the paw under his chin, and on the paw reaching towards us.
Suddenly I'm aware that I was too timid (my usual failing) with the darks, and will need to really bump them up, particularly in the stripes. I started adding some raw umber (very dark brown) to those areas, and to darker areas of the fur.
You will already have noticed, I'm sure, the PINK on the mouth and nose. Fret not. They'll get toned towards where they belong as we go along. The mouth will get a lot of white brushed over it, to define the little hairs all about the area, so that stronger pink will be necessary to stand out after that.
Lots still to do, but that's where we are tonight. Stay tuned!