Fall Portrait Marathon, Painting #3: Eliza's Skyy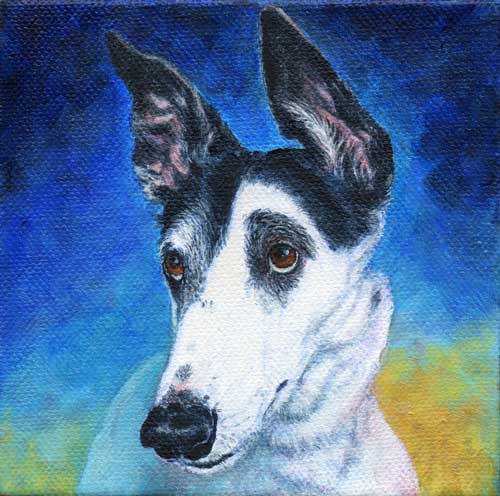 Skyy
5″ x 5″ acrylic on canvas
©Xan Blackburn 201

Skyy threw me for some loops.
With her elegantly simple coloring, and gentle gaze, should have been simple, right? Ah, that's always the way! It's the simple stuff that's hardest to do beautifully! But, I couldn't look away from her. I took her through some pretty strange colors, I changed the direction of her gaze in mid-painting, this particular canvas seemed uncooperatively rough, my brushes seemed to either not let go of the paint, or leave it in puddles ….
But those are just typical growing pains for a lot of my art. In the end (I think it's the end!), I think it all came together.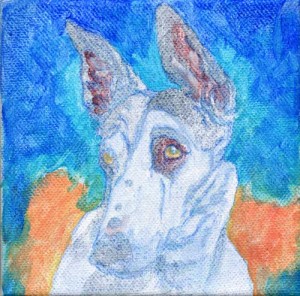 Skyy – work in progress
5×5 acrylic on canvas
©Xan Blackburn 2011
Let's walk through it. Starting Friday morning at this point. That is a lot of bright color going on there! If you click on the picture, you can see that I'm not quite clear yet where I'm going to direct Skyy's gaze. The drawing has turned into the basis for the underpainting by smearing into the polymer medium I used to seal it. I guess I'll have to just figure that that's the way that works, and control that.
I went at the painting with the Payne's gray to achieve my darkest dark areas, carefully working out the complexity of the ears, and the flow of the hair patterns. I also worked on the background, glazing the brighter blues with ultramarine, and bringing the cantaloupe orange over into a more Naples yellow range, at least close to Skyy.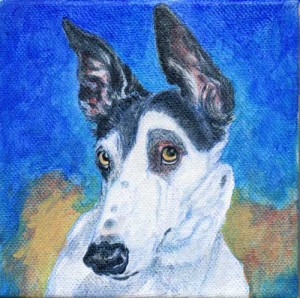 Skyy – work in progress
5×5 acrylic on canvas
©Xan Blackburn 2011
I decided to move the direction of her gaze up towards us, and started to warm the iris color with a glaze of warm yellow. But, I'm not liking the effect. It's too coy.
I also worked on the whites. Since the blue pastel from the drawing had smudged around so much, it gave me a basis to come UP the scale from, making highlights of whiter-white against the slightly blue-white elsewhere. I started establishing a shadowed area on her body, behind her muzzle, as well.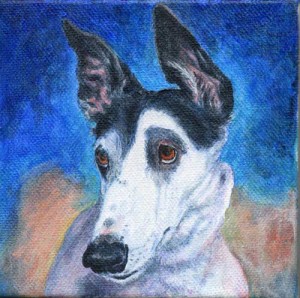 Skyy – work in progress
5×5 acrylic on canvas
©Xan Blackburn 2011
Here you can see I moved her gaze back, but I've messed with the shape of her eye, and will need to correct that as I go. I've also continued to tone down the background, and push the area behind her muzzle back into the shadows, making her face more prominent. Notice the pinkish lavender tones now in her lower body. A lot more detail has gone in, refining the fur, particularly around the eyes. The nose continues to evolve, and the ears never stop getting more detail and deeper darks.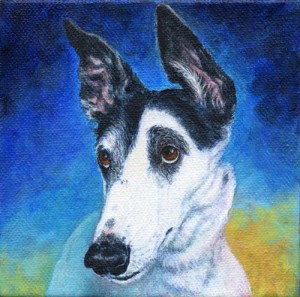 Skyy
5×5 acrylic on canvas
©Xan Blackburn 2011
You can see in the final version that I decided to make some major changes in the background. I just kept feeling like that wing of orange on the left was too distracting, and tended to stop the eye on its way around the painting. I also changed the color of the shadowed area of her body behind her muzzle. That was pretty much a last-minute decision, done while holding my breath, but I like how it came out. I corrected the shape of her eyes, glazed in many layers of raw sienna (a beautiful red-brown) and raw umber (a very dark brown with much less red in it). I heightened the white areas on her face by mixing my white with just the tiniest hint of … well, I don't know what. Maybe a few things. That's one of the happy miracles of a slightly messy pallet. I know there were both browns and maybe even some Naples yellow swimming at the edges of my white. The effect was to warm the white, separating it even more from the bluish whites around it, and making those warmer areas pop. I also used my Payne's Gray on the blue areas of the background. Glazing it in as a transparent layer added a richness to the blues beneath, and also brought them down even darker, allowing Skyy's white face to become the star in the spotlight.
I see a couple small tweaks I want to do on the painting before I send it off, but they won't be really visible here, so I'll leave it at that.
Next up is Lisa's kitty, Spencer. That boy was loved so deeply, and was such a personality, that a friend of Lisa's who was also part of his life is giving the portrait to her as a gift (which she hasn't been told yet!), and has even written a bit about him.
He'll get his own post, though.