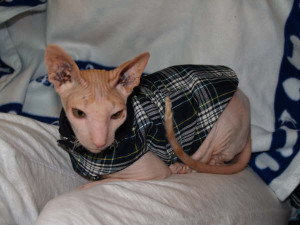 Emmet sharing the love
Fall Portrait Marathon, Emmet!
My dear friend Merann is a woman who looo-oooves her pets! She has 3 greyhounds as well as a bunch (how many is it now?) of cats. Her Cornish Rex, Emmet, is a special guy. He had his claws removed in a previous home, and suffered great pain until Merann got him sorted out. He has no fur to speak of, which reveals what most cats hide under their thick fur. He's a study in smooth elastic skin and wrinkles, the gathers that allow him to have such expression and to move with the fluid grace of the feline kind (I'm laughing here – any other cat people rolling their eyes and thinking of their klutzy cats upending potted plants or knocking over the knick-knacks during some pell-mell race through the house?)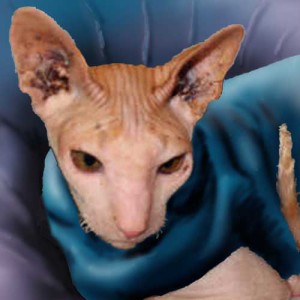 Anyhow, Emmet. The photo Merann chose is not so great for my purposes: low-resolution and a bit dark. It's hard to tell what color his eyes are, even zoomed in. I did what I could in Photoshop, and played with the background, also removing the plaid, as I thought it competed too much with Emmet's subtlety and his own delicate patterning. Here's what I'm using for a reference. Don't worry about how crude it looks. It's just for my own purposes. I also have asked Merann to tell me the eye color.
I thought I'd throw in some wrinkles or patterning in the background behind his head to sort of echo the wrinkles on his forehead. I'll keep them subtle. I'm also going to give him a bit of a makeover to clean up his ears. (Merann says that condition has cleared up, so yeay!)
I transferred my drawing to my canvas, this time using a pale gold pastel so it wouldn't be too dominant even under the paint. For my underpainting, this time I mixed some warm burnt umber with my usual cool Payne's gray, to warm it up. I want to accentuate his pinkish skin, so like human skin.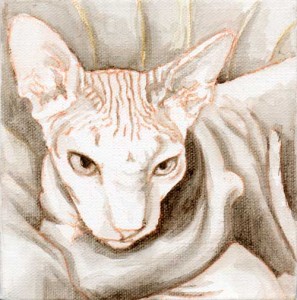 Emmet – work in progress
Acrylic on canvas, 5″ x 5″
©Xan Blackburn 2012
He looks a bit punky or angry here, so I'll have to tone down the wrinkles between his eyes. I'd say the underpainting is pretty much done though. Tomorrow, the rest of the story!