Whew!! Phoenix is finished, and I'm quite pleased with how he turned out. I'm impatiently waiting for it to dry enough so I can scan it to show you.
*drumming fingers*
*checking dryness, checking time, adding 3 hours for the east coast*
*drumming fingers some more*
*checking dryness, huffing in frustration, and going to get a beer*
*squinting at it at an angle to check dryness, dabbing on more paint, and huffing in frustration again*
H just came in, and he said, "It's better than the photograph." *doing small victory dance*
Well, while I'm killing time (yours as well as mine!), I'll talk about it a little bit. After the last update, I needed to work on the background a lot, and keep detailing Phoenix himself. I dabbed in some red and purple-y colors, like my sketch, and almost died. Augh! Ick! Well, I wasn't too committed to those colors anyway. More blues! Layering in cool and warm blues, lighter and darker, then adjusting the lighting in the figure to reflect the blue light, I kept playing back and forth between Phene and the background.
Yeay! It's dry enough. Scanning now …
Meanwhile, I was really liking the blues, layered onto the other purple-y reds and some browns I'd also washed in there. Then I remembered Robin's comment here that Phene's color is blue. Bonus! 😀
Okay, you've waited with me, and ….
heeeeee—eeeeeeeeere's
Phoenix!
*Grrr! Waiting for the picture to upload!!*
Oh, for pete's sake! What's the hold-up?? 😛
Uploading elsewhere ….
Honestly. Sheesh.
Okay, let's try this again.
Heeeeeeee-eeeeere's PHOENIX!!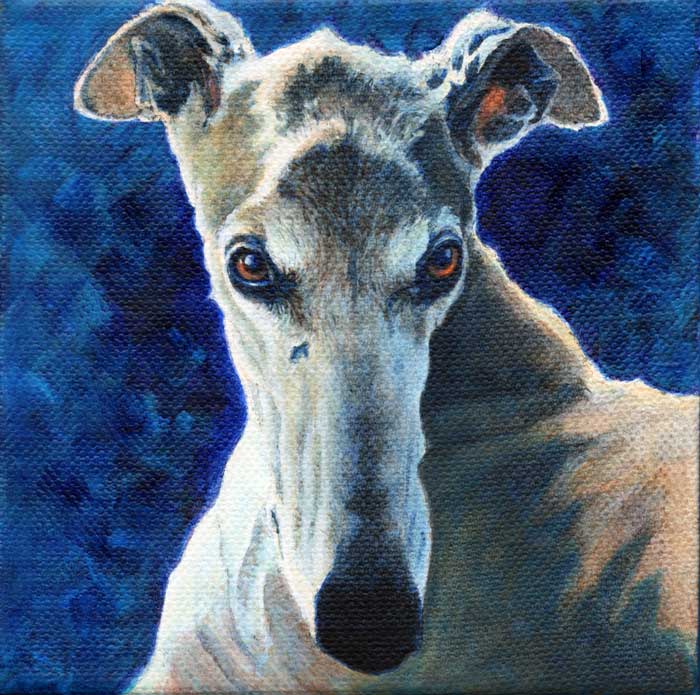 What do you think? It's okay, right?