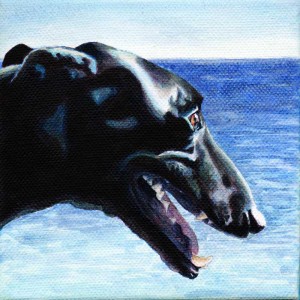 Nancy's Harry, staring with full attention out over the waters. This was his first time at Dewey, as a fairly recent adoption. His world was still revealing new things to him at every moment, at every turn, on every walk. I'm always amazed at how well greyhounds hold up at Dewey (Greyhounds Reach the Beach is a huge, week-long event where greyhounds and their people take over a couple of beach towns in Delaware), but even more when I'm told, "Oh, we just picked her up from the track on the way here!" Holy moly!
I'm managing *about* one a day, in case you're working out when your turn is coming up. Here's who's still on the list:
Leslie's Skye
Lori's Tuck
Jennifer's Tiger
Christine's Hamilton
Carrie's Morgan
Sara's Bella
So, Leslie's next!
Off to feed the dogs, cats, and myself. Have a lovely evening!