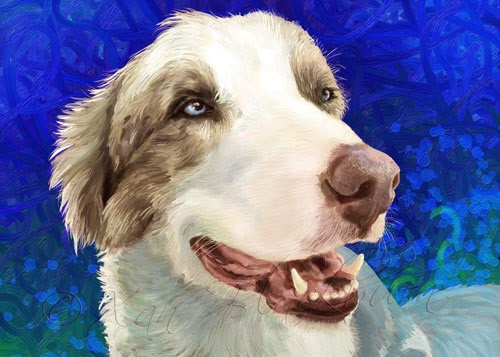 Bud
Digital painting (Artrage 4)
5″ x 7″ @300dpi
© Xan Blackburn 2014
My series of paintings of Ellen's dogs continues with handsome Bud. I loved his gentle, relaxed smile, his soft hair and wonderful markings, but who could resist those bluuuuuuue eyes!
Working on paintings in a digital way allows a lot of freedom to experiment without committing irreversible damage to a painting. That's hard to resist, and I had a lot of fun trying out backgrounds, experimenting with various brush techniques for the fur, and zoooooming in waaaaay too close to get tiny details that no one else will ever be able to see. That's the potential down-side! I had to keep stepping back out and lecturing myself about not re-creating reality, but enjoying a more painterly approach in this small format.
Here's a quick step-through of the painting's progress: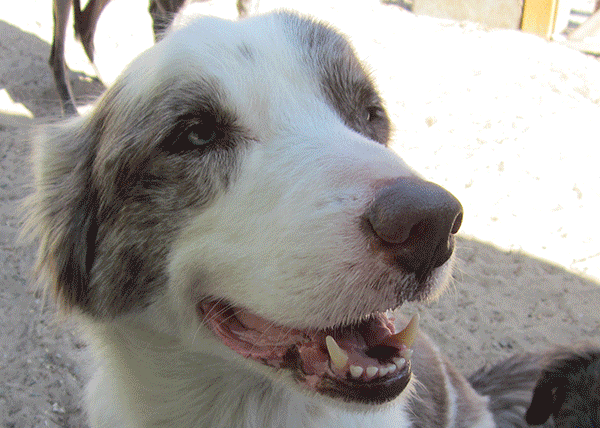 Bud in progress
Digital painting
© Xan Blackburn 2014
I kind of like that second step, too, where it's the sketch with the first whacks of color laid in.
My OTHER Job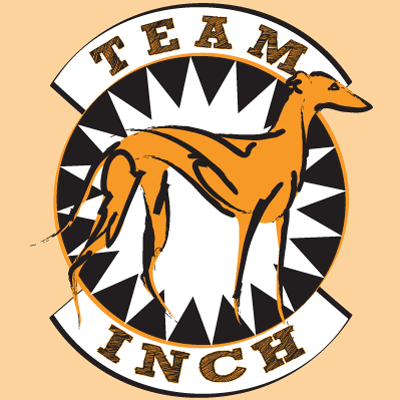 As I have mentioned, my OTHER job is all about rescue and animal welfare work.
Team Inch: Right now, Team Inch is having our first online Auction, and I invite you all to be part of helping us rescue and find forever homes for sighthounds by bidding on some really pretty fabulous items.
Team Inch coalesced last fall, out of a nebula of folks already rescuing dogs from S. Korea. In just a few months, we've been through so much, bringing over 8 sighthounds, partnering with established adoption groups in N. America to find adoptive homes for them, establishing a Facebook and static website presence, and having some heart-breaking losses. The risks and veterinary costs for these dogs is comparable to some of the worst-case scenarios we see anywhere in the world, and transporting these mostly larger dogs to N. America where they have a better chance at life is expensive. But many hands make light work, and in this way YOU can be part of Team Inch. See you over there!
I'm also doing a top-secret fundraiser for this group which I can barely keep to myself. Believe me, you'll know about it as soon as I can tell you! Great bunch of hard-working volunteers. Maybe you can be part of the network!
Nittany Greyhounds
runs this very popular event for greyhound families every year. While I can't go in person, I will be sending a painting to their Special Art Auction – a first this year, I'm told. This painting is very personal to me, and I'm proud to be able to send it out into the world for this.
This painting is a more experimental piece for me, using various media (paper, acrylic, graphite, pastel on Claybord panel) in one piece. I love the layered depth, the complex feel, the moody emotional possibilities that arose from both my own emotions and the materials working together. I'm going to title this one "Memories".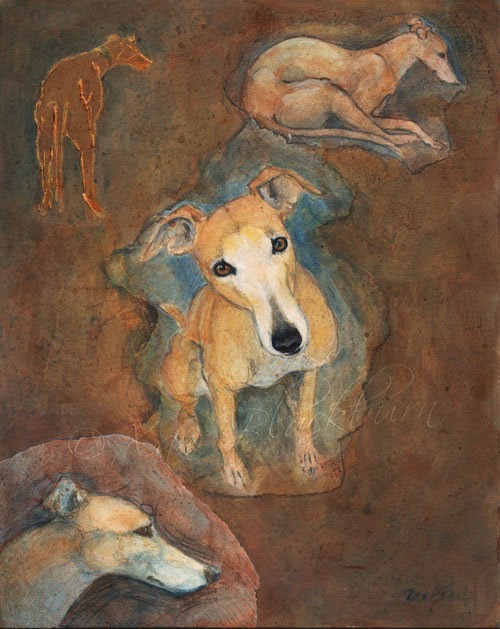 Memories
multi-media on panel, 8″ x 10″
©Xan Blackburn 2014
Here's a detail, so you can get a little better idea of the complexity: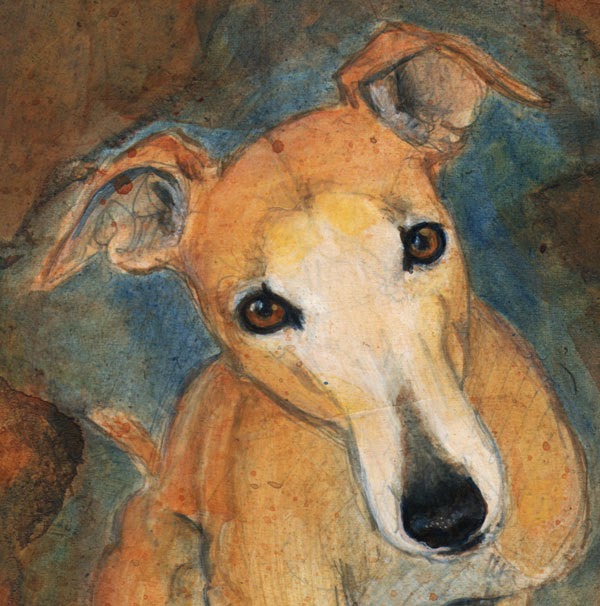 Memories (detail)
multi-media painting
© Xan Blackburn 2014
Now it's on to Ellen's Moma.