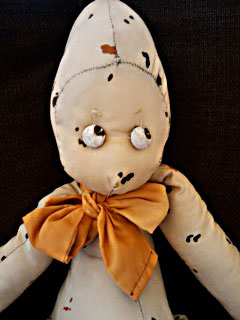 Detail of Minke
eyes are leather buttons, painted with
acrylic
I'll be creating a soft sculpture portrait: a first for me!
{edit: bidding is now closed. Thanks to all the participants!}
If you've been reading my blog, it's probably because of my pet portrait work. I'm really stepping outside my own box for this one, since I was in such challengingly unusual and talented company in this auction.
Sculpture has always been a big draw for me, but for some reason, I've only dabbled.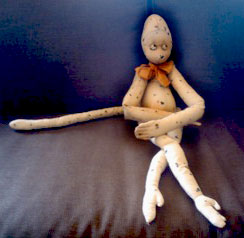 Minke
primitive soft sculpture for my sister,
who's last name is Vinke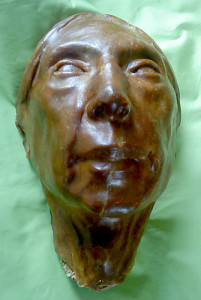 Wax portrait, cast from clay portrait bust
© Xan Blackburn 2012
I did a bunch of soft sculpture in my mid-20s, I have a drawer full of nice wood-carving tools, another with various polymer clays I kept a wax mask of a clay portrait I made that was meant to be used in a bronze-casting class, but never was. I got excited about paper mache a little while ago, and created a portrait of my friend Billie's dog, Buddy. I'd love to do ceramic sculpture, but not having a kiln has always seemed too big a barrier to start.
But this opportunity just screamed sculpture to me.
I've been taking bits of time here and there to look at what others have done in this area: art dolls, soft sculpture, softies, stuffies … As you might guess, etsy.com is nearly a bottomless source of inspiration and wonder (just for starters …) Among so many fun, amazing, funky, funny, purposely ugly, primitive and positively ornate offerings, there are many that have fired my imagination. Lisa Lichtenfels absolutely knocks my socks off. I'm thinking I might have to add soft sculpture to my repertoire on a permanent basis.
You might think it would be a drawback that I haven't got a sewing machine. Well, they scare me, y'know? I ran my mom's sewing machine needle into my thumbnail when I was little, and haven't been the same since. Childhood trauma. You know. So, I'll be hand-stitching. I'm sort of obsessive when I do sew, and my stitches are tiny, which is good, but time-consuming. I also have a tendency to stick needles and pins into me, which I like to think means that there is literally a bit of my heart in each thing I sew.
I'm not at all sure how I'll approach my winner's pet portrait. Depends on the pet, the owner, and the synergy that always happens there. I have a feeling I'll be using a mix of techniques. Maybe the doll will be posable, with a wire armature or joints. Maybe there will be a mix of materials, both hard and soft. Maybe there will be recycled materials involved, to honor the recycled nature of an adopted pet.
We'll know pretty soon who the winner is! If you want it to be you, get bidding! 😉