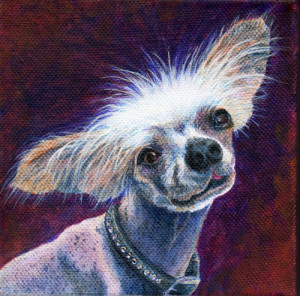 Yeay!
This little guy was a blast to paint. What a fun, funny, sincere, whimsical, adoring and adorable guy! Hubble and his human, Faith, were obviously lucky to have found each other.
(For those of you just joining us, I'm in the midst of my Spring Portrait Marathon, explained here.)
This is the phase I didn't want to share yesterday. Looking at it now, especially at such a small size, it doesn't look so bad, does it? Well, maybe I was too close to it at the time.
I'm trying to figure out how to get the whole series in here in a row, but *frown* it gets all scrambled up, for some reason. Ah well. It's all here on the blog anyway.
Enjoy!
Now, on to Maureen's Hailey, a smiley black greyhound……