Fluffy, Work in progress. 8″ x 10″ acrylic on panel. ©Xan Blackburn 2011
Fluffy's portrait is coming along nicely. As usual, I was a little afraid of messing it up. Again. But just pushed on forward.
The background is looking intriguingly like leather, somehow. I didn't mean it to, exactly, but I like it. Fluffy is looking less amorphous, though he does need to stay at least a little amorphous! Glazing in his soft swirly hair is just the perfect way to control how fuzzy he stays, especially at the edges.
There's a lot of raw umber and raw sienna, with a bit of white, worked into that background, as well as glazed into the fur. The play of the warm and cool tones keeps him from becoming a fuzzy ice-sculpture, and unites him with his background. The white fur would reflect some of whatever color was around him, besides just letting it show through at the frilly edges. I'm really enjoying his flyaway twists of fur!
This is how we left him last time you saw him.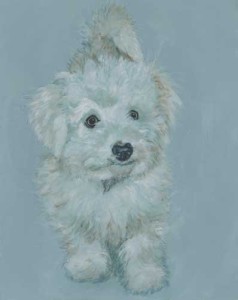 Fluffy, earlier. ©Xan Blackburn 2011
Shows up a bit more now, eh? I can see finishing this up in the next couple days. I'm pretty sure his owner will be happy to finally have his portrait!
I've been asking for reference photos for my demo portraits, and have received some great ones! So far, I've got a Berger Picard, a Cardigan Welsh Corgi, and a Miniature Aussie. I just need one more. I'd love to do a smooth dog, like a Xolo. But I'm open to anything on the ICKC breed list, at this point.
Little NEWS FLASH:
You can now sign up to get my Xan's Art Friends Newsletter, and/or to be on the Commission Alert List by following This Linky. Some of you are probably already on my list, in which case you'll still be signed up. But if you're not, and want to get the highlights, it's a good way not to miss the most important stuff (like, sign-ups for Portrait Marathons, upcoming events that might bring me to your area, stuff like that). I'm trying to get more business-like around here! The link will stay in my sidebar, up at the top, and in a few places on my website, too. I have a newsletter all set to go, but I'll give you a day or two to sign up first.
Another Little NEWS FLASH:
Since I've started taking commissions again, I've updated my website with the info, including my price list. So you can start planning your gift list for the year. 😉
That's been my day! Does that seem like a lot or a little? You wouldn't believe how long it took me to set up my newsletter thingamabob!