I don't even know what project to take up!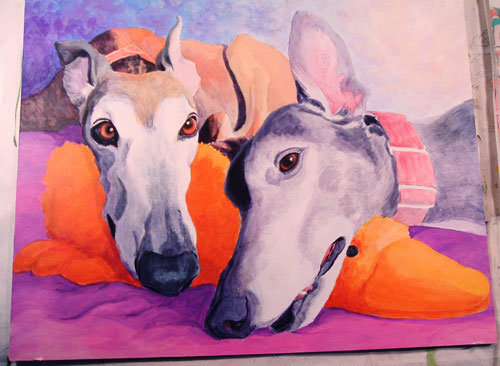 Niccolo & MaeBella
Work in progress. Acrylic on panel. 16″ x 20″
©Xan Blackburn 2011
I've got two paintings currently in process; Fluffy, and Niccolo and MaeBella (yikes! that's colorful!)
I got stalled out on N&M two whole years ago, when I ran out of technique, and my muse took a hike. Now, I can see not only how I got stuck, but how to proceed. Thank goodness!!
Fluffy is moving along. I'll show you more of him shortly.
I have a marketing deal in the works with a dog registry, but I'm not sure how much effort to put into it as they seem to be in flux, and communications are spotty. It could mean an opening into a market I might not otherwise show up in, or … not. I'm still inclined to follow up on it, though. That's why I was asking for reference images in an earlier post. By the way, I still need references! I'm open to any breed currently in the ICKC list, since that's the market I'm aiming at. My idea is to do four 8″ x 10″ sample portraits to be carried around to the various events with my biz cards, etc., in return for which I'll take a discount on a portrait of this year's big winner to be given as the prize for winning. So, that's four paintings I need to do just for that. Soonish, if you please!
Then there's Dewey coming up. Greyhounds Reach the Beach, in Dewey Beach, Delaware, has been a major focal point for the last several years, where I've sold my art in various forms. This year, it's looking like I'll be bringing precisely not a single thing. Unless, you know, I suddenly manage to make a bunch of art for that!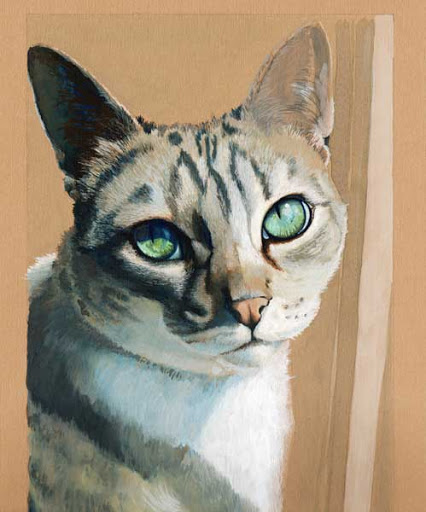 ScrapCat: Coco
Work in progress. Gouache on matboard.
©Xan Blackburn, 2011
Oh, and let's not forget my painting of Coco, which I didn't quite finish while at SnipFest. I want to get that done, and get it sold, for the benefit to WeSnip! Here's a detail shot of where I am with her as of today.
ScrapCat: Coco
Work in progress. Gouache on matboard
©Xan Blackburn, 2011
The event itself was LOTS of fun. I didn't sell a whole lot, but I didn't really expect to, since my stuff is so specific, and there aren't a whole lot of greyhound owners just wandering around Birch Bay looking for some holiday cards! Just the one gentleman, who did buy a print and some cards. (Hopefully, his greyhound Becky will come visit my greys soon.) I did draw a lot of interest from painting on the spot,
and talked to a lot of people about various types of commissions, so we'll see what comes out in the long run. In the mean time, I got to chat with my neighbors, and listen to some great music from the stage about 50′ away (my pet sitter performed! Go Jenni! :D) Mostly, I wanted to show my support for WeSnip.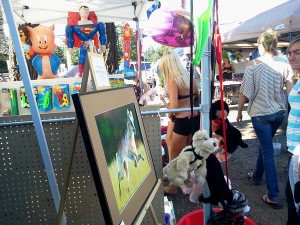 SnipFest, view from my booth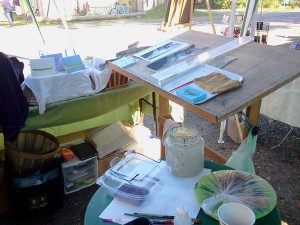 SnipFest, view from inside my booth over my
painting table
Well, I do have Fluffy on the table, with paint on the pallet, so I guess that's what I'm doing!
Thanks to those of you who've already signed up for my "Commission Alert List". If you want to know more about that, look to the right sidebar. I know I have to get my price list up. It's on my project list!