Shawn in the spotlight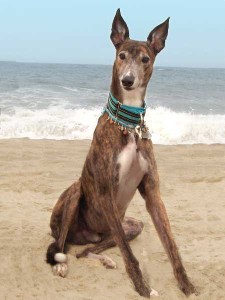 Shawn on Dewey Beach
This portrait has been gestating since … Oh my … April, 2008! Kelly won a portrait by me in a raffle, way back when, and we never did pin down just who was going to get the treatment. Kelly finally decided Shawn would take center stage, we actually chose a photo, and the first layer of paint is on the canvas. Whew! Look at those EARS! The painting is 9″ x 12″, acrylic on canvas. I'll let you follow along as I go, as usual. At this moment, the drawing is just about to be transferred to the canvas, which has had an underlayer of soft blue laid down already.
Nice warm graphics
While my muse has been thawing out from her winter hibernation, I've been doing a little this and that to prime the pump (that is what is known as a mixed metaphor). I find graphic work easier in this state than portraiture, which is good, since it was time to design this year's Hope for Hounds artwork. That was fun. After a rough start earlier in the winter, I put it aside. When I came back to it, I started from scratch and just blew right through it. In case you missed my last post, that design has gone live, with a very exciting raffle for the first collar to be made! You can still buy tickets, at $10 for one, or $25 for three, so hop on over there! We've got some big new ideas this year, too. You'll want to make sure you're in on them! 😉

On a related design note, I also enjoyed designing a couple custom fabrics that will be exclusive to 2 Hounds Design. It's always fun working with my good buddy, Alisha!
In the last few weeks, I've had three more requests for graphics. One was a logo that both the client and I shelved last fall, one is for a dog breed club's national event (using a previously designed element from an unused graphic – recycling!), and one is for a custom wine label for a previous client (is that also recycling?) All are in progress, so I can't unveil any of them yet, so you'll have to take my word for it for now. I'll show you when I can. I'm champing at the bit to show you!
My hubby has also been availing himself of the in-house design department (that would be me) to update his logo (which I designed years ago*) and his blog's banner.

Okay, it's not fancy, but it works, and it's purty.
He's also working on a book, for which I'll be doing illustrations. I worked this up for a working cover image.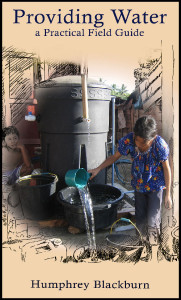 Looking forward: Feedback appreciated!
In a previous post, I talked about my plans for this year, and next winter specifically. I've added another idea to my pile.
Last year, I created a custom greyhound art doll (aka stuffie, plushie, stuffed animal, soft sculpture, cloth portrait …) as a fundraiser. I've had many requests for more, and also for the pattern. If you were following that epic saga, you'll know I really made it up as I went along, with a lot of trial and error, but I did end up with a pretty cool pattern. So, what do you think about an e-book of instructions (lots of pictures, of course!), including a pattern that could be transferred by grid to whatever size you wanted?
If you like that, how about this added bit: the book would have a link to purchase a cut-and-sew fabric printed with the pattern, for the option to let me take some of the work out of it for you?
Liking this so far? Okay, how about if I created several versions of the cut-and-sew patterned fabric for different color dogs (fawn, fawn and white, brindle, black, etc.)? Once you have the instruction book, with the fabric link, you can buy as many of the fabric patterns as you like, of course: make a whole pack! Use them as fundraisers! Give as gifts to your houndie friends! Sound like a good concept?
Considering how sewing challenged I am, I'm considering recruiting a beta-tester and proof-reader who already knows how to sew (any volunteers? 😀 )
______________________________________
*The leaf that brought us together! Long story, but let's just say I threw myself at him, artistically speaking, and the rest is history!