The Gessobord I've been waiting for arrived today. *sigh* Damaged. All four pieces. That stuff isn't cheap, and now I have to wait some more to get it replaced, figure out what kind of claim response I'm going to get, etc..
On the other hand, Alisha called yesterday, so we had a chance to brainstorm holiday card ideas, which I'd been missing! Yeay!
On the other hand, I did end up with droopy red bruises around both eyes from my encounter with Pogo on Friday. Hmf.
On the other hand, I look about 5 years younger from the swelling puffing out my frown lines! Yeay!
On the other hand, I have a little fluffy dog portrait to do that reminds me of my dear departed Hobie. Aww! Here's the reference photo (much tweaked from the original). Isn't he too sweet?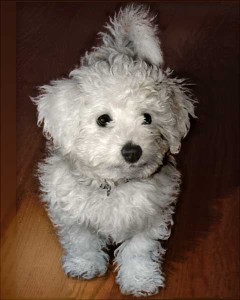 On the other hand …
Nah. I've got nothin'. All's good!
Hope you all are having a wonderful Monday!