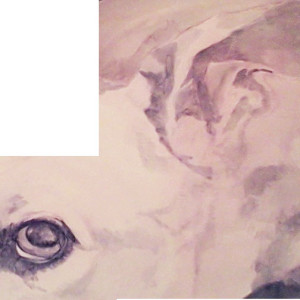 Mystery Portrait, work in progress
©Xan Blackburn 2011
I was working kind of slowly today. My usual timidity, where I'm sure I've forgotten how to paint, and will just mess everything up if I dare to actually put visible amounts of paint on my brush. Nonetheless, I did make some progress with my underpainting.
In this bit, you can see how I've begun to be more specific with my darks, even suggesting fur a bit. This eye is coming along, with plenty of room to get some depth even in the pupil.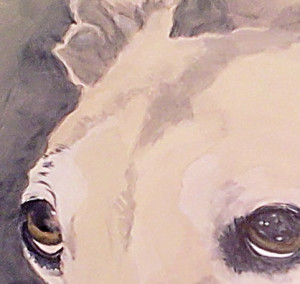 A few hours later, I've reached this stage. You can see that I've added some white, which will begin to give the proper hair color in these areas, and also give the whites of the eyes that are so expressive.
There's lot more work, but I can't show it to you. HA! 'Cause it's such a big secret! ;D
Just to remind you, the Fall Portrait Marathon sign-ups start at 9am PST (don't forget to set your clocks back!) Don't dawdle: these always go fast! 😉
For all the details see here.