This blog has had a rest. We all need a rest now and then, right?
When I started this blog, it was going to be mostly about my art. Then it turned into a sort of open letter to my family, with pictures. My muse had gone walkabout, so there was precious little art to blog about anyway!
I did manage to get my holiday card designs done, though. Six of them, no less! Every year, Alisha (2 Hounds Design) and I (Xan's Art) choose from our long list of ideas to offer several card designs. We call our partnership Grey Matter.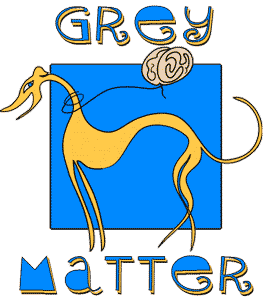 This year, in addition to the 6 new designs, we bowed to pressure from our fans for a multipack. We put together TWELVE different designs in one pack.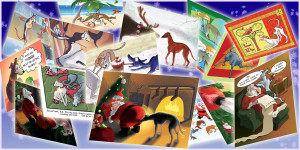 Something for everyone on your list!
I re-learned something this year. Or re-remembered it, I guess. The less cards I send, the less I get. And I LOVE getting cards! So, I'll be sending out lots this year, even joined the card exchange on Greytalk.
Well, it's art time again! Miss Muse has found her way home, and I put her right back to work.
My current project is to create enough art to participate in a show, which I will arrange myself. It was originally scheduled to be right after Thanksgiving, but logistics kicked my hiney, and left me no time to make any art. So, it's been re-scheduled for the kinder gentler spring of 2010. Yeay! I can do some art!!
The concept for the show is a benefit for a feral cat rescue organization in Whatcom County, WA. For all that kind of show/concept/etc. info, go see my laboriously produced (I'm SO not a web designer!) website for Sudden Gallery.
On to the actual art stuff!
I have a bazillion ideas for what media I want to use for this show. I'll be thrilled if I actually get to play with more than 2 or 3. Right now, I'm focussing on linocut prints. I'm having a wonderful time with the actual carving, now that I've kind of got the hang of it, and despite a few inadvertently self-inflicted cuts and stab wounds. My first block was a good learning piece, but not really show-worthy. My second is definitely showing improvement. Check this out.
Here's the block, carved and ready to print.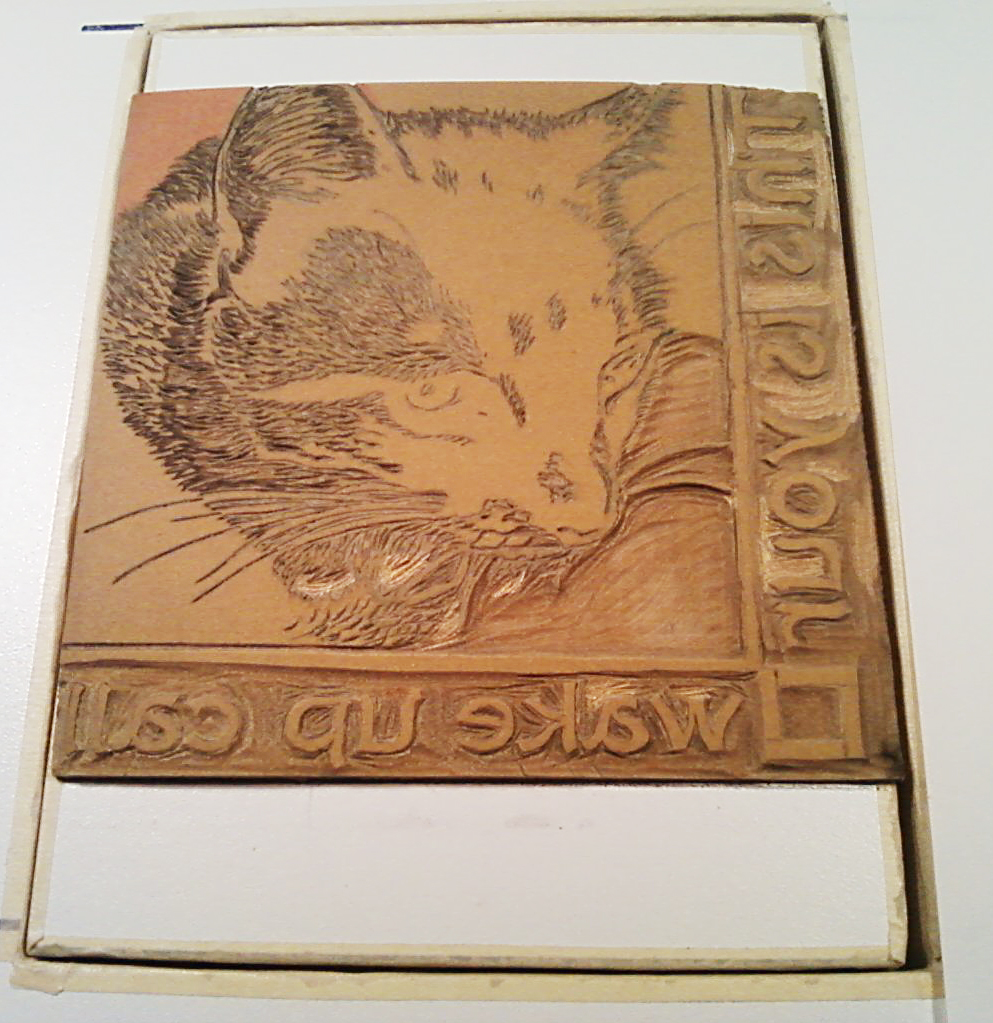 Here's the first test-print.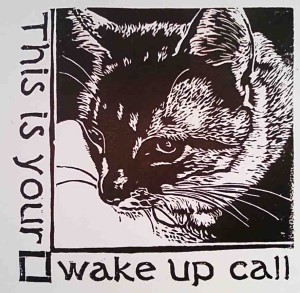 I haven't decided yet how I'm going to do this. I'm thinking of printing it on cool and groovy hand-made paper with flotsam in it, and a bit of color, or on hot-press (smooth) watercolor paper and coloring it by hand with colored pencil. Watercolors would be nicer, but I printed with water based inks, which means it would just smear the ink. Unless I do the water colors first, then the print. I'm thinking about that, too.
It's not all art, though. Well, put another way, art is where you find it! Look how pretty this birch (?) looks against the dark sky, with the late afternoon sun sliding in from the side and lighting it up.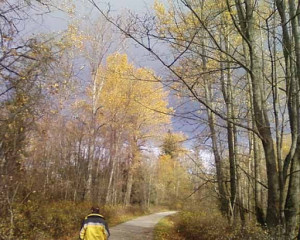 That's from our walk on the Railroad Trail yesterday. That's H there in the yellow jacket.
Fall means mushrooms! There's one place we always look for shaggy manes (no, I won't tell you where! ;P ), and we were lucky enough to find several. Looky!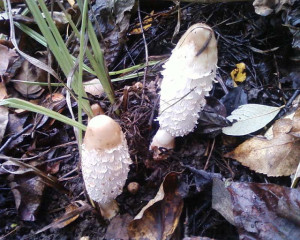 Yum.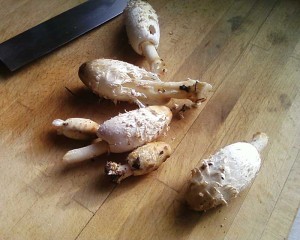 So, back to the drawing board … and the cutting board!