Okay, not exactly "legal" to take a break during a marathon, but, there
was
Thanksgiving, and I had a sick dog (now much better, and bugging me to play with him), and then there was a lot of communications going on about some rescue dogs coming from Seoul,
one of whom
I may or may not get to foster, or at least give a ride to.
*update* Nope. I don't even get to give her a ride. 🙁 But, I wish her well in the next phase, and congratulate her foster mom for all that she's done for Coco so far!
But anyway! Back to the marathon!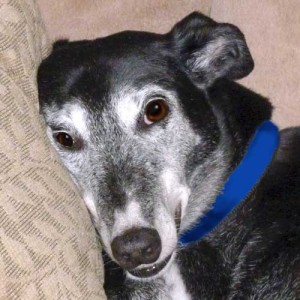 Faye Oops reference photo
Faye Oops, Laura tells me, came to them as a 10 year old bounce last year, and new right away she was in her forever home. When she was diagnosed with osteosarcoma last month, it made that final horizon look awfully close. Laura and Faye Oops know each other's souls. She's "the ultimate cuddle hound", and loves to lay her head up on a pillow as in the picture we're using as reference.
This is the photo, already cropped and the eyes repaired from their flash-bulb blot-out. I also colored her collar to the royal blue Laura asked for. I like how her face is a little squished against the pillow. It's so relaxed and un-posed!
I got started in the usual way, transferring my drawing using pastel. This time, rather than try to glaze over the whole drawing, I went over it carefully with Payne's gray glaze, since that's what I'd be doing in the next step anyway. That worked just fine. I don't know why I make extra work for myself!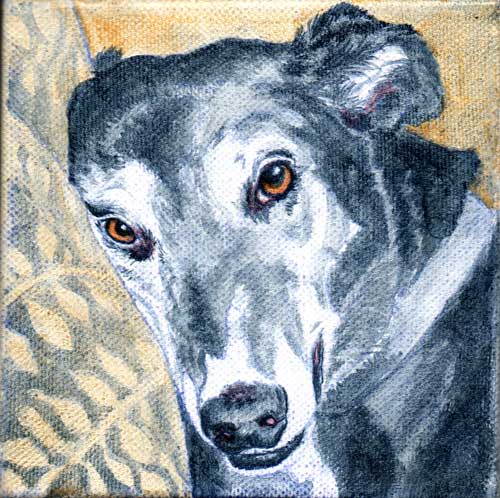 Faye Oops – work in progress
© Xan Blackburn 2011
I didn't take any progress pictures between blank canvas and this point, 'cause I was just on a roll! I had some classic rock going, and I just kept going to the next bit and the next bit.
You can see a bit of the blue pastel has become part of the early paint layers. That's quite alright. I picked that color to work anyway.
I've used three colors so far; the Payne's gray, a raw sienna (the pale tan of the couch, and the first layer of color in the eyes) and some red mixed with the payne's and the sienna glazed into the areas where there's a little pink showing, in her nose, lip, ear and the corners of her eyes. Also glazed some of that mix into her eye color.
I decided to do some of that pattern in the pillow to give some dimension to the pillow, but also to introduce a sort of natural element (the leaves), and because I just felt there needed to be some more action in that large area of canvas. I plan to keep it subtle, as in the original pillow in the photo. I plan to add more shading to the couch and pillow, to keep the focus on Faye Oops' intimate gaze. Camera flashes tend to flatten shadows out, and make everything the same level of importance, but with ART, we can do what we want! (Saw that in a gallery years ago, and instantly took that as my mantra!)
Most of the underpainting is established. Now it's all detail; layering up subtle color, stroking in individual hairs for focus, building up both shading and highlights.
Off we go!