I thought I'd let you all peek behind the curtain a little more into what else goes on in my studio. No worries! I'll be getting back to Nikki's painting as soon as I finish writing this post.
I've been working on a trade show display for my husband. His water treatment business has been a major client of mine for about 12 years now. Of course, the pay has always been negotiable, but I'm happy with the return on investment.
Last year, we developed a large (6'h x 4'w), re-usable, adhesive vinyl graphic, which he'll be re-using this year. It was part of a set of three such graphics which made a very impressive and sophisticated display for his booth. All together, they looked like this:

total dimensions: 8'w x 4'h
Developing these pushed my aging Mac's resources because of the large file sizes, but they really look great! He has them on his office walls now.
This year's set up will come together like this: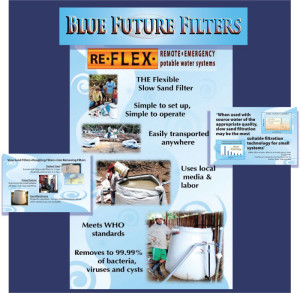 You can't get a good look at the two smaller graphics on either side at this size, I'm afraid. Suffice it to say, a fair amount of work went into each element of both of them! They're being printed on vinyl banner material, with grommets, to fix them to whatever clever support H gets worked out on the pop-up display wall. Exact placement isn't set in stone yet. We are hoping to get some overlap, with some curving of the side panels, and some horizontal popping-out, which will take some engineering ingenuity, which I will defer to my hubby. I hope to get a good picture of it all set up in the exhibition hall.
I've also been putting some energy into developing some art and products to bring to a Silken Windhound event in July. Such pretty little dogs! I've never been to an event with coursing or racing of any kind, or conformation or obedience or any of that, so this should be interesting. Since these little ones are not competing to win money for their owners (at least directly, although showing well will benefit breeders of those dogs), the attitude seems much more about the fun the dogs have than profit-based racing (of which I strenuously disapprove!) Although I find breeding any animals for human amusement, consumption or profit to be wrong, the animals produced are innocent, and lovable, as we all know!
Watch this blog for upcoming requests for
silken windhound reference photos,
from which I can make some art!!
Now, as I promised, back to work on Nikki!