Well, finally, right? I had some graphics work, and some design work, and some accounting (retch!) work to do, but I finally got back to little Treasure, here. Robin, Treasure's mom, is on her way back from earthquake-torn Chile, but still got to see this photo of the painting on her travels. Amazing how far, and how dependably, internet technology reaches! (Did I just prove what an old lady I am? 😉 )
Anyway, I'll miss her toothy little glare in my studio, but I'll tell you a little secret (don't tell anyone, now!); I kept the first version, the one I showed you in my last post, for myself! I just liked the watercolory underpainting so much I decided to start fresh for Robin!
So, now I'm waiting for the next couple people on my list to get back to me about whether they even remembered they signed up for this marathon, and still want their turn. In the mean time, I thought I'd catch you all up.
Like I said, I had a couple graphics jobs. One was designing the new Hope for Hounds collar trim. I couldn't show you before it was released, but now I can.
Here's my design:



And here's how it came out as collars! (Alisha tells me the colors don't show quite right, and are a little closer to the teal and cream-beige than the white and blue it looks like here.)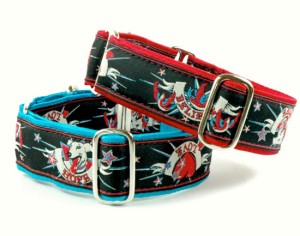 Oh, and you can click on the picture to be taken to the site where you can purchase the collars! 😉
It looks like they were able to weave in all that fine sharp detail! Amazing. We decided to do a design based on old-school tattoo iconography. It was a fun challenge.
Ah! I just now got a request to do a caricature for a very nice lady for whom I've done caricatures of her other pups. This one is going to be Buffy, the new girl, and she sent me so many adorable pictures I don't know what to do with myself! I'll post it when I'm done.